Bradford & Bingley bankruptcy feared
Fears that mortgage bank Bradford & Bingley is on the brink of bankruptcy have heightened following rating agency Moody's decision to cut the cash strapped banks' rating to Baa1, the lowest of any major British bank.

"Our bankruptcy probability is increased to 25 per cent. UK property is 40 per cent over valued and B&B holds £30.7bn of mortgages with a loan to value ratio of 70 per cent or more," said James Hamilton, analyst at Numis.
The fears of bankruptcy come as reports surfaced that Clive Cowdery, boss of Resolution, turned down approaches from B&B's main shareholders over the weekend to come to the aid of the ailing lender. However, it is understood that Cowdery may come back to B&B once the rights issue is completed.
Analysts rushed to downgrade the bank following American private equity firm TPG's decision to walk away from the deal late last week in spite of an emergency rescue plan under which some of the bank's largest investors are now giving their backing to the £400m capital increase.
Legal & General, M&G, Standard Life and HBOS have all supported a revised deal, whereby B&B will raise £400m through an expanded rights issue at 55p a share, underwritten by investment banks Citigroup and UBS.
Due to this backing, analysts expect the recapitalisation to go ahead, but say Moody's downgrade, which will make it harder for B&B to write new mortgage business as well as to raise wholesale funding, has raised questions over the banks' prospects.
"The trading performance remains weak and we expect it will continue to deteriorate as impairment rises and the rating downgrade leads to additional funding costs," said Cazenove.
"An old style, bail out orchestrated by the Bank of England behind closed doors would appear to be B&B's best hope of survival," said broker MF Global.
The timetable for the investment, originally due to be voted on by shareholders today, has now been extended by one week.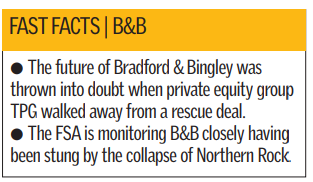 Analysts Views: Will Resolution return to bid for Bradford & Bingley?
Alex Potter (Collins Stewart): That the board of B&B and its financial adviser rebuffed Cowdery's materially higher offer only to see its back stop position weaken significantly is to their detriment. A ratings downgrade makes his return less likely. If he is kind enough to return to this situation, we feel he is likely to be bidding at materially less than the reported 70p+ of his last proposal.
James Hamilton (Numis): There is a very real risk that achieving £400m of funding at 55p will not be possible. This would undoubtedly impact the credit rating of the group further and so diminish the probability of survival. We would not rule out Resolution returning with a lower offer but the longer this drags on the weaker we would expect the performance of the business to be.
Sandy Chen (Panmure Gordon): It would be natural for investors to hope that Resolution reiterate their 72p per share offer for a large stake in B&B; in view of the declining fundamentals and TPG's withdrawal, however, we think this hope may be in vain. B&B must now run the gauntlet of an emergency rights issue, more difficult funding conditions, and a rapidly deteriorating macro environment.