---
Advertising with
---
Digital advertising
City A.M.'s award-winning digital content is for intelligent, business-minded readers. Online articles are not behind a paywall, making cityam.com more accessible than many similar business newspaper websites. The print and digital content teams are now fully integrated, allowing more time to produce relevant content.

Our digital focus for 2016 will be on delivering even deeper engagement with our most loyal users, the 1% of our audience who are responsible for 20% of our pageviews.

High impact display opportunities are available alongside standard and more innovative solutions.
Audience
City A.M. attracts a premium audience, outperforming similar leading publishers in these key demographics:
CityAM.com is 74% more likely to attract AB users and 40% more likely to attract ABC1 users compared to the total internet.
61,000 users are unique to CityAM.com, with these users not visiting TheTimes.co.uk, Telegraph.co.uk, FT.com, Spectator.com or Economist.com across the month.
(Stats from comScore May 15)
Traffic
After a significant investment in digital since May 2014, cityam.com now reaches a larger, undiluted audience. Global users are up 210% – from 400k then to a record 1.2m UVs in November 2015.
Unique monthly visitors
1,200,000
Monthly pageviews
2,500,000
This increase has been achieved without diluting our premium audience of AB men, aged 25-54 with a high disposable income. 79% of pageviews are from the UK.
(Stats from Adobe Analytics Nov 15 – global figures)
Display
An eye-catching take on traditional advertising formats, for advertisers looking to get noticed.


| | |
| --- | --- |
| Leaderboard | 798 x 90px |
| Billboard | 970 x 250px |
| MPU x 2 | 300 x 250px |
| Double MPU | 300 x 600px |
*Formats accepted: HTML 5/ GIF / JPEG
---
Page Skins and takeovers
Maximum visibility on the website, these are perfect for campaign launches and often take place over 24-hour periods. Can include pageskins.
---
Tailored services
Hubs
To host a series of content, with commercial links and solus advertising within the hub. City A.M. can also create a parallax scrolling site for clients. The possibilities are endless.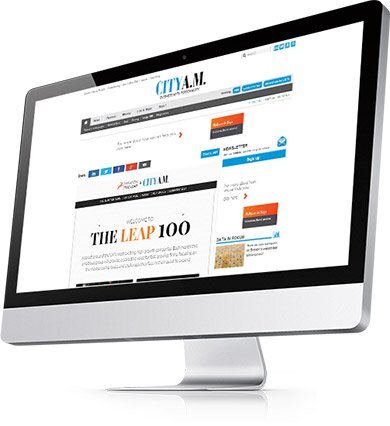 Infographics and Interactives
For sharing. Infographics are already an integral part of the website content. We can also create bespoke infographics for clients.
Competition pages
These are used to increase engagement with users and generate leads as part of promotional efforts.