$40,000 achieved as Paul Tudor Jones piles in on Bitcoin
Greetings from Crypto Valley in Zug, Switzerland where I continue to be super impressed with the Swiss can-do attitude. 
CV Labs hosted me for my visit – opening their amazing 'Shed' space for the first time. The Crypto Valley Top 50 Round Table lived up to its billing with a plethora of industry heavyweights including 21Shares, Draper Goren Holm, the Bitcoin Association, Cardano Foundation and Meld to name just a few.
I certainly believe that with the right governmental support that the City of London can also be elevated to be a hub for innovation. However, following my observations yesterday we need to have a full and transparent framework in place.  I will be meeting with other industry spokespeople on my return to the UK to see how we can re energise things.
Crypto at a glance
Bitcoin continues to surf a wave of good news, with yesterday adding bullish billionaire investors to recent national adoption news, Musk's re-emergence, and more MicroStrategy buying. The leading cryptocurrency by market cap is again trading at over $40,000 for the first time since May 27. It's a number many greeted with dismay just a month ago when the markets entered a state of apparent free fall, but can it now be used as a launchpad to get the bull run back on track?
A lot of credit for the recent recovery is again going to Tesla CEO Elon Musk, who tweeted on Sunday that the electric car maker would allow Bitcoin transactions again "when there's confirmation of reasonable (50%) clean energy usage by miners with a positive future trend". Is his power so great that even such lukewarm sentiment really moves the market? A friendly reminder that only one Tesla was actually paid for in Bitcoin when it was available as a payment method.
Bitcoin also got a helping hand yesterday from hedge fund manager Paul Tudor Jones, who told CNBC that he sees Bitcoin as an important way for investors to diversify their portfolios and had increased his own allocation. Is the Bitcoin price still in thrall to billionaires?
Either way, the Bitcoin price is now up more than 20 per cent in the last seven days. The Fear and Greed Index, which tracks market sentiment, is also back up at 38, which is the highest it's been since May 12, while 87 per cent of investors surveyed by cryptocurrency brokerage firm Voyager said they plan to increase their Bitcoin or other crypto holdings over the next quarter. Is the bull run really getting back on track?
It's good news everywhere today, with Ethereum also following Bitcoin's lead at last. The second-largest cryptocurrency-by-market-cap is currently up three per cent over the last 24 hours, changing hands for more than $2,600. It received a timely boost yesterday from Goldman Sachs, which revealed plans to offer ether options. The other big gainer yesterday was Polkadot (DOT), which is up 12 per cent in the last 24 hours. DOT has faded somewhat of late. Can the Asia favourite re emerge as a contender again?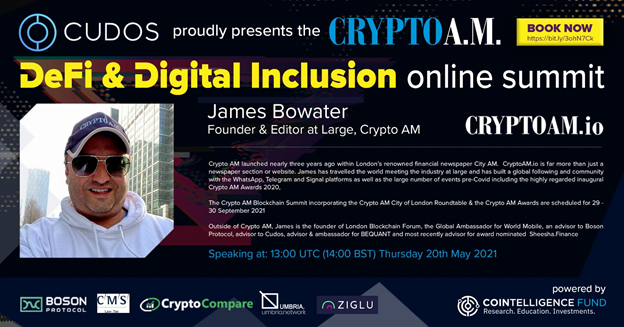 For those of you who missed the Crypto AM DeFi & Digital Inclusion online summit – you can now watch the event in two parts via YouTube…
Part one:
Part two:
All feedback on Crypto AM Daily in association with Luno is welcome via email to James.Bowater@cityam.com ??
In the markets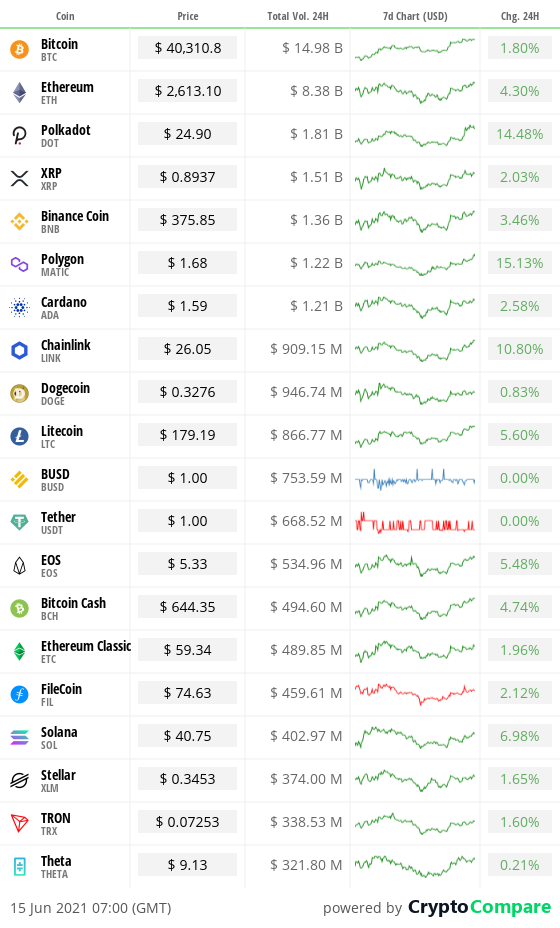 The Bitcoin economy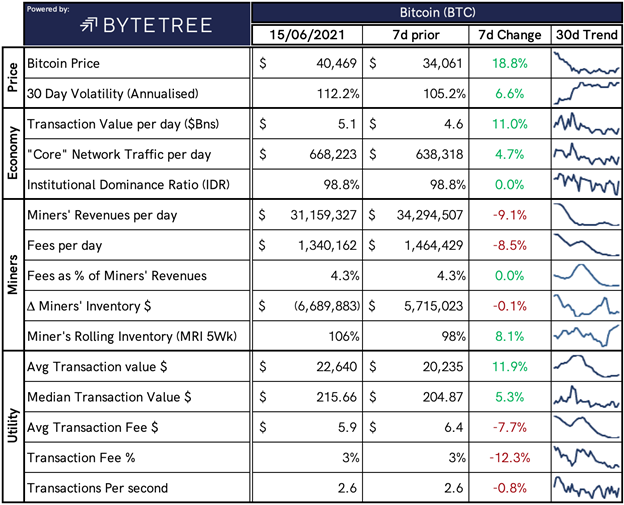 *Definitions and insights can be found at https://bytetree.com/insights/
Total crypto market cap
The total capitalisation of the entire cryptocurrency market at time of writing is currently $1,746,005,595,492.
What Bitcoin did yesterday
We closed yesterday, June 14 2021, at a price of $40,536.07, up from $39,097.86, the day before.
The daily high yesterday was $40,978.36 and the daily low was $38,757.28.
This time last year, the price of Bitcoin closed the day at $9,450.70. In 2019, it closed at $8,838.38.
Bitcoin market capitalisation
Bitcoin's market capitalisation at time of writing is $755.22 B. To put it into context, the market cap of gold is $11.881 and Facebook is $954.89 billion.
Bitcoin volume
The total spot trading volume reported by all exchanges over the last 24 hours was $46,534,253,921, up from $44,266,747,568 yesterday. High volumes can indicate that a significant price movement has stronger support and is more likely to be sustained.
Volatility
The price volatility of bBtcoin over the last 30 days is 97.5%.
Fear and Greed Index
Market sentiment today is 38.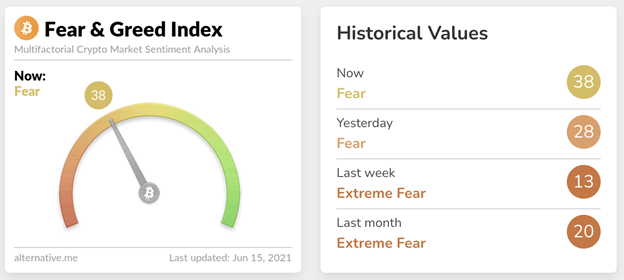 Bitcoin's market dominance
Bitcoin's market dominance today is 45.40, Its lowest ever recorded dominance was 37.09 on January 8 2018.
Relative Strength Index (RSI)
The daily RSI is currently 52.60. Values of 70 or above indicate that an asset is becoming overbought and may be primed for a trend reversal or experience a correction in price – an RSI reading of 30 or below indicates an oversold or undervalued condition.
Convince your Nan: Soundbite of the day
"I like bitcoin. Bitcoin is math, and math has been around for thousands of years. I like the idea of investing in something that's reliable, consistent, honest and 100% certain. So bitcoin has appealed to me, as it's a way for me to invest in certainty. "The only thing that I know for certain is I want to have 5% in gold, 5% in bitcoin, 5% in cash, 5% in commodities, at this point in time. I don't know what I want to do with the other 80%, I want to wait and see what the Fed's going to do."

– Paul Tudor Jones, head of the $44.6 billion Tudor Investment Corporation
What they said yesterday
Another way of looking at it…
Pat Toomey tells it like it is…
Dead?

Crypto AM editor's picks
Anonymous say video message to Elon Musk over Bitcoin meddling isn't theirs
Bitcoin investors are growing weary of Elon Musk's tiresome tweets
Google slowly opening its doors to cryptocurrency advertising
Cardano bridges the gap to China by teaming up with Nervos Blockchain
Crypto AM: Longer Reads
City AM Markets: What is Decentralised Finance (DeFi) by Aave
Crypto AM: Conversation with James Bowater
Crypto AM: Market View in association with Ziglu
Crypto AM: Technically Speaking
Crypto AM: A Trader's View with TMG
Crypto AM: Mixing in the Metaverse with Dr Chris Kacher
Crypto AM: Talking Legal
Crypto AM: Spotlight
Crypto AM: Founders Series
Crypto AM: Industry Voices
Crypto AM: Tiptoe through the Crypto with Monty Munford
Crypto AM: Definitively DeFi
Crypto AM Parliamentary Special
Part one of two – April 2021
Part two of two – April 2021
Five Part Series – March 2021
Part one…
Part two…
Part three…
Part four…
Part five…
Crypto AM: Recommended Events
Crypto AM City of London Roundtable
Crypto AM Blockchain & DeFi Summit
Crypto AM Awards 2021
September 29 and 30 2021
Cautionary Notes
It's definitely tempting to get swept up in the excitement, but please heed these words of caution: Do your own research, only invest what you can afford, and make good decisions. The indicators contained in this article will hopefully help in this. Remember though, the content of this article is for information purposes only and is not investment advice or any form of recommendation or invitation. City AM, Crypto AM and Luno always advise you to obtain your own independent financial advice before investing or trading in cryptocurrency.
All information is correct as of 08:30am GMT.