Why Tesco's share price just fell to an 11 year low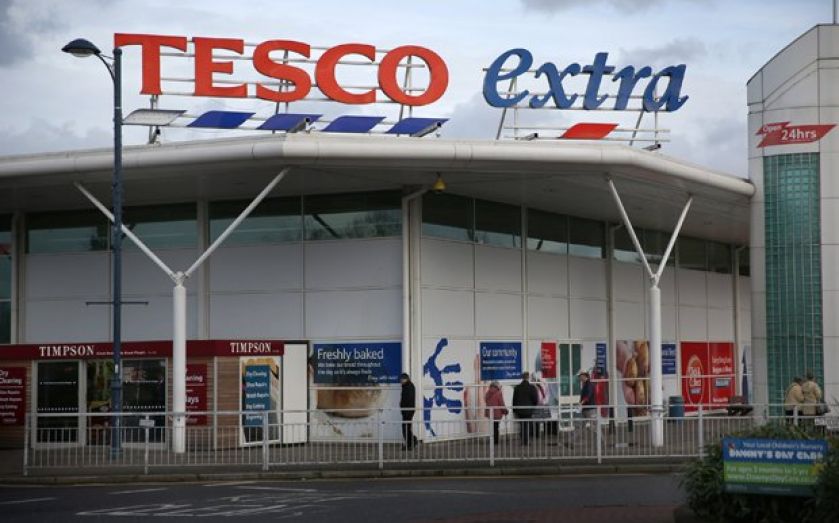 Another surprise announcement this morning from Tesco has further dampened the supermarket's outlook when it really must have been hoping to move on from recent rough times.
Shares fell more than 11 per cent to an 11-year low after announcing a £250m error in its first-half results.
Whether its an accounting error or something worse, investigating the overstatement of profits within a previous "kitchen sinking" profit warning is probably not how new chief executive "Drastic Dave" Lewis wants to be spending his third week in charge.
On a call with press this morning, Lewis said little was clear about what exactly the overstating error is, what caused it, how far back it might stretch or who is responsible.
There may be indications, but nothing is for sure. Here's what we know so far…
What
The outlook Tesco gave for first half profits was £1.1bn at the end of August. At the same time it revised its full-year expectations down from £2.8bn to £2.4bn.
The supermarket giant now believes the £1.1bn figure, while still estimated, is thought to have been overestimated by £250m – not exactly spare change down the back of the sofa.
If that turns out to be the case, half-year profits will drop by 22 per cent to £850m.
As Begbies Traynor partner Julie Palmer points out, this is almost half that of last year's £1.6bn estimate. Ouch.
Analyst comments range from purely being "flabbergasted" to claims that "Tesco is no longer a viable investment," in a note titled "Every little hurts".
While guidance on full-year results has yet to be given, there is no doubt this figure will have to be revised downward- again.
How
Tesco was alerted to this error on Friday by an unnamed person.
Lewis said today that Tesco believes revenue it received from suppliers was reported in the wrong period and mostly in the period at the beginning of the year.
He has not ruled out that this irregularity may stretch further back, however, and could involve a larger sum than £250m, hence a "full and frank" investigation
Cantor's Mike Dennis has expressed the most damning view yet, claiming this is not new for Tesco.
"In November 2013, in a morning comment titled 'A desperate move?' and in October 2013 we published a research note entitled "It's just an illusion" in both we questioned how Tesco was supporting 5.2 per cent UK trading margins with falling sales and rising costs. We believed Tesco had been overstating its UK commercial gross profit by £200m plus per year via deducting monies from suppliers' trading accounts or extending payment dates without notice."
Who
The names of four senior executives suspended from Tesco have not been confirmed by Lewis, despite reports that among those is UK managing director Chris Bush and UK finance director Carl Rogberg.
However Lewis did say multichannel director Robin Terrell was stepping in to run the UK leadership team.
Tesco has also admitted that it is currently without a chief finance officer and has been for the last week. Outgoing finance man Laurie McIlwee, who resigned in April, finished in the job just over a week ago. New finance chief, M&S's Alan Stewart doesn't join until December.
Questions have been raised as to chairman Sir Richard Broadbent's suitability to remain on board, considering the issues have unfolded on his watch. He has said he won't be standing down.
Former chief executive Philip Clarke, who was also in charge at the time of the irregularities, is still working at the retailer in an advisory capacity until January.
Auditor Deloitte has been brought in to investigate and establish what exactly has happened as the issue is one that "normal auditing processes did not pick up".
PWC is the retailer's usual firm, however the period in question is not one the firm has yet looked at.
Tesco admitted that it is currently without a chief finance officer and has been for the last week. That's some bad timing.
Outgoing finance man Laurie McIlwee who resigned in April finished in the job just over a week ago, the BBC reports. New finance chief, M&S's Alan Stewart doesn't join until December.
Why
A look at Tesco's share price over the last year goes some way to explaining why, essentially, the reporting of revenue would want to be brought forward- as Louise Cooper says, "history is littered with companies that have timed their income and costs to make profits look higher. It is a classic accounting game to play."
The woes of Tesco have been well documented – loss of market share as it feels the squeeze from cheaper rivals such as Lidl and Aldi, its worst quarterly performance in decades, profit warnings and the departure of bosses including former chief Clarke and chief financial officer Laurie Mcllwee.
The kitchen sinking performed by Dave Lewis at the beginning of his tenure by issuing a now wrong profit warning was seen as a good start for the former Unilever man, however the company's market cap has lost £1.5bn since his initiation three weeks ago.
Here's that 11-year low, last seen in May 2003, and how its looking so far today.
Tesco share price today
Update: This story was updated to clarify that the period in question is one yet to be audited by Tesco's appointed auditor PWC.