We will never shy away from celebrating risk, hard work and reward – The City View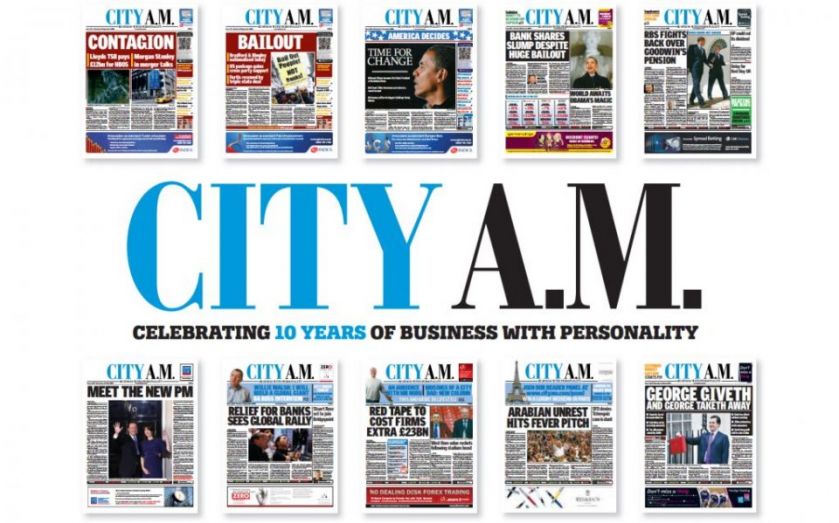 The idea of launching a new, free newspaper was born from a belief that London and the City are unique, and that the people who work in the heart of our nation's economy deserve a paper that understands, informs, challenges and celebrates them.
Ten years ago this week, the first editions of City A.M. hit the capital's streets. They were handed out as Tony Blair began his third successive term as Prime Minister, and in a year when a young David Cameron would be elected leader of the Tory party. There were one million fewer people living in London than there are now, and the crisis of 2008 had not yet loomed into view. It was, in short, a different world.
So much has happened since our first edition, but our promise to deliver business with personality has guided us through the last decade and will guide us into the next one, too. The landscape around us has changed.
New buildings and new designs have come to own the skyline, and the nature of our economy has evolved. We've been with you through boom, bust and recovery, and the postcrash economy is proving to be a very different place from the environment with which we had all become familiar. New expectations of transparency and conduct are given weight by the emergence of new ideas and technologies.
Ten years ago, the alternative finance scene was in its infancy, but last year providers made nearly £2bn available to UK firms and individuals. It is part of an innovation wave that will power change and growth in ways we couldn't have imagined. These forces will continue to shape and change our economy, and navigating this environment will require foresight, judgement, experience and a willingness to adapt.
We had confidence 10 years ago that if we backed this remarkable city then it would back us in return. From the commuter towns of the south east to the apartment blocks of Canary Wharf, our readers trust the news we deliver and value the ideas we promote.
This is an optimistic, pro-business newspaper that will never shy away from celebrating the hard work, risk and rewards that sustain this city and the people who live and work here. On these pages today you can see the story not just of this paper, but of the last 10 years. And in this column from now on, you will find the voice of a paper that believes in the vast and undoubted benefits of competition, innovation and real, free market capitalism.
What the City is saying about City A.M.'s 10 years
"City A.M. has been a breath of fresh air when it comes to business and current affairs. London is lucky to have had it thrive and add to the vibrancy of the media we can enjoy." Gavin Patterson – CEO, BT Group
"YouTube, Facebook, City A.M: It's a good time to be a tween! Happy birthday, and here's to the next 10 years." Kathryn Parsons – CEO, Decoded
"The fact that City A.M. has been available for 10 years is heartening. It's important to have a source of swift, accurate economic news in the morning." Sajid Javid – Business Secretary
"A very happy birthday to the authoritative and entertaining City A.M." Nicola Horlick – CEO, Money&Co
"I am so dependent on City A.M. that I have been known to change my travel routine to ensure I don't miss its distribution." Vicky Pryce – Chief Economic Adviser, CEBR
"Happy 10th to City A.M. As a 30 year-old, it makes us at WPP feel old." Martin Sorrell – CEO, WPP
"A very happy 10th birthday to City A.M. Here's to the next decade of breaking stories, providing robust comment and keeping the powerful on their toes in Westminster, the City and beyond." Chuka Umunna MP – Shadow Business Secretary
"Congratulations on 10 years of keeping us abreast of news from the heart of the world's greatest financial centre." Willie Walsh – CEO, IAG