Eurozone manufacturing: UK outstrips Europe in the battle of the PMIs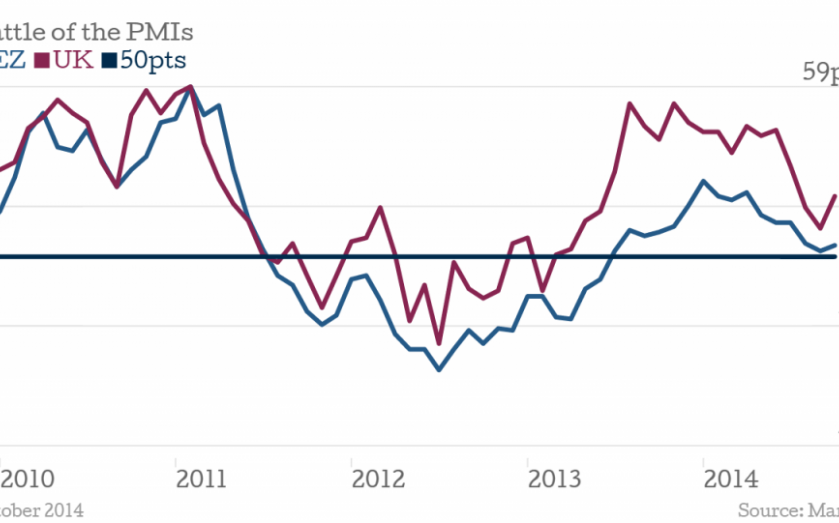 Manufacturing data published this morning confirmed what many already suspected: manufacturing activity in the UK is outstripping the Eurozone and has opened an economic gap on China.
For October, the Eurozone's manufacturing purchasing managers' index (PMI) was at 50.6, while China's was at 50.4. Both a hair's breadth from the 50 point mark that separates a growth in activity from a reduction.
The UK's score, however, unexpectedly jumped to 53.2 for October, far ahead of its continental compatriots. The pound was up on the news, climbing 0.22 per cent to 1.6005.
Within the Eurozone there was some difference between performances.
Italy was bottom of the pile with a 17-month low of 49.0, while France also came in under the 50 point mark at 48.5. Germany bounced back with modest growth of 51.4, after a less than impressive score in September.
The disparities between different countries is a continuing cause for concern. Although Spain, which has flirted with default in the past and suffers from chronic unemployment (currently at 23.7 per cent), showed growth, Italy, Greece and France showed their economies are going the wrong way as the Eurozone continues to suffer disinfaltion and low growth.
Rob Dobson, senior economist at Markit said:
Perhaps most worrying is the trend in new orders, a key bellwether of future output growth, which declined for the second month running. It is hard to see any significant near-term boost to performance, while market demand remains insipid and beset by lacklustre domestic conditions, slowing export growth and ongoing economic uncertainties.