Starter: Salmon pastrami; airdried monkfish; cuttlefish salami; oysters; brill tartare with egg yolk, peas and morels
Miles Kane: We met through my mate Gizzi Erskine, didn't we? She's a chef, and she told me bout the place. I was intrigued when I heard it was named after an Arctic Monkeys tune. I came for a meal over Christmas.
Tom Brown: That was a good night, wasn't it?
MK: Yeah. I think we have a mutual respect, a mutual appreciation for each other's craft. I'm a massive foodie.
TB: I've always thought there was a synergy between music and cooking, because they both say something about your own taste. I can't make a dish I don't like and you can't write a tune you don't like.
MK: People always appreciate something they can tell is authentic.
TB: Totally. When I opened this place I wanted to correct everything that's shit about the restaurant industry, how stuffy and pretentious it is. So when you walk in, the bar is right by the door, and someone greets you and gets you a drink immediately. There are no bad tables, everyone can see each other. I wanted the place to have warmth. I choose all the music, too. Normally when I cook I have my phone next to the chopping board, and I curate the night as I go, because then I can see how everyone's reacting. If it's a quiet evening I'll put something chill on; if there's a party atmosphere I'll go for something a bit livelier.
MK: With anything creative it's about the vibe, about creating an atmosphere – in my dressing room before a show we dim the lights, put a cool playlist on. It's like a gig before the gig.
TB: When we had our first anniversary party, the PR sent over a list of celebrities and journalists for me to invite, but I just threw it in the bin and invited all our mates instead. I invited a bunch of our regulars too, and we cleared a space for a dance floor and had a great time.
Mains: Hake, curry sauce, crispy potatoes; monkfish on the bone, roast chicken butter sauce
TB: You were in LA for a long time, weren't you? Why did you decide to come home?
MK: For the work, really. I had an amazing time there, it felt like being on holiday every day, and if I had what I have over here maybe I'd have stayed. But ultimately my work is in Britain. Also, I don't want to diss LA, but it's such a strange place. Everyone wants to show you their CV. Mexico's different though – it's much friendlier.
TB: My brother lives in Mexico: I love it there, the food's incredible. I remember being on a beach in Oaxaca. There was a guy there, a big fat geezer with speedos on, wearing a bucket like a backpack and a utility belt like batman, and he carries oysters, hot sauce, limes and a shucker, and just spends all day dishing out oysters to people.
MK: I love that! Food should be an event. Has that always been your philosophy?
TB: I was seventeen when I started cooking, just after I'd left school. I'd planned to be a doctor, but I didn't fancy being in a classroom anymore after doing my GCSEs, so I started working at the local boozer. I'd never really had an interest in food, but it went really quickly from there. I like the instant gratification you get from cooking, the way you can see immediately that someone's enjoying what you've made.
My favourite things in life are rock and roll, wrestling, food and sex. In that order.
MK: I saw that you got voted the third best restaurant in Britain – that's pretty impressive for having only been open a year…
TB: Yeah, that was pretty nuts. It felt surreal, because I'm the new kid on the block. I was mostly glad because the awards dinner was a fucking good laugh with all my mates, none of that black tie bollocks.
MK: Speaking of awards, I've always wondered about the whole Michelin thing – how does it work? Do you know it's them?
TB: They do two visits – one announced and one incognito. On the unannounced one, when they reveal they're from Michelin it's like being pulled over by the police. Your mouth goes all dry, you start apologising for no reason. We'd had a really shit lunch service that day as well, so it was a pretty stressful few hours.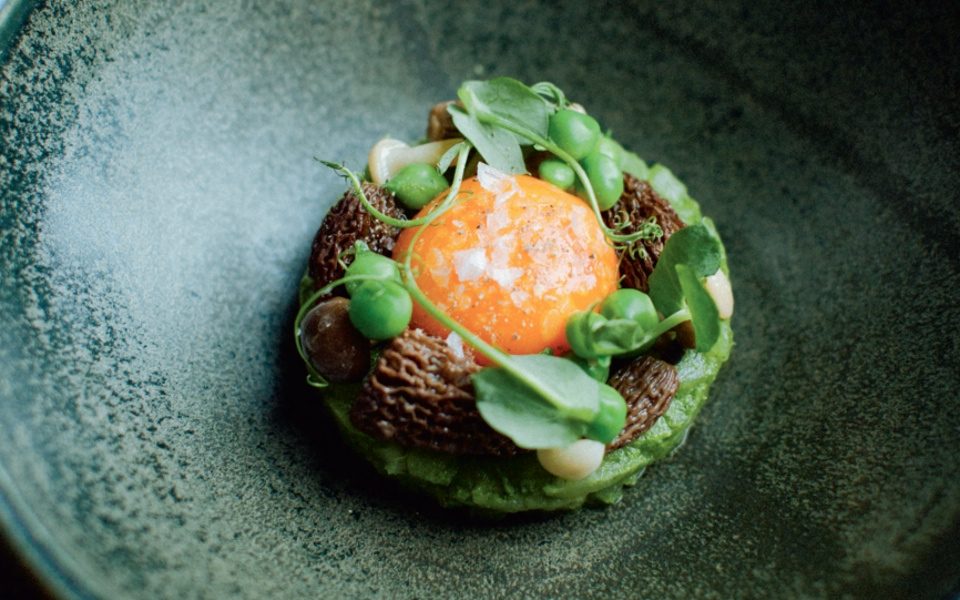 MK: How much do chefs care about getting a star?
TB: It's the big one, so anyone who says they don't care is lying. When the guide came out last year, everyone assumed we'd get one. Chefs all over the country who thought they might get a star were phoning me and asking if anyone called yet, because if we hadn't been notified there was still a chance they might get one. And in the end I got caught up in it, because if everyone's saying it will happen then it's a dead cert, isn't it? So I was a bit gutted when we didn't. The really sad thing was watching the award ceremony and seeing all my mates were there – it was like not being let in the club because I had my trainers on!
MK: That's how I think about awards – it's nice to have one on the mantelpiece, but you shouldn't start trying too hard. As long as you're fulfilling yourself creatively, as long as you like the music you're making, then it's fine to have one eye on awards. I wish people were more honest about the appeal of that kind of recognition – when musicians say they don't care about that stuff, I always think 'why do it then?' Why not release your music under a fake name? I hate that phoniness, the way some musicians love giving it the artsy one. Not everyone needs to know that you're taking a stand. Either embrace it, or shut up!
TB: Yeah, exactly. A Michelin star isn't what I do it for, but fuck me I'd love it to happen.
Dessert: Strawberry pavlova, clotted cream, lemon verbena
TB: I remember when you came the first time, you said to me that your favourite things in life were rock and roll, wrestling, good food and sex.
MK: In that order, too. The list hasn't really changed since.
TB: Do you still enjoy music as much?
MK: I think so. The way I make music hasn't changed since I was 18. I've always followed my gut, creatively – that's the best route to longevity. I've been working independently recently. We created my last tune, Can You See Me Now, totally by ourselves – no label, no publishing – and it's had an amazing response. We weren't even aiming for the radio and it's had a ton of radio play. We're planning to do that for our next album now.
TB: Is there more freedom that way?
MK: I've always felt creatively free, to be honest, I've always stuck to my guns and tried to better myself. I made my first album on my own, it's just that it was then put out by a major label.
TB: How long have you been making music professionally?
MK: Fourteen years. Someone told me that I'm an old man of the industry the other day, and I found it weirdly comforting, because where I'm at now is the most enjoyable point in my career. I think of who I looked up to when I was in my early 20s, the way I spoke to them, and now when I meet young artists they speak to me that way. Not to be egotistical, but I like that.
TB: Is that because you feel you have nothing to prove?
MK: It's funny you say that, because I still feel like I've got a lot to prove. I think of music as a game; you never complete it, but you've got to keep trying, and the goal is to get as close as possible. I know I'm not going to complete it, but I'm giving it my damnedest. What about the restaurant industry – do you think it's in a good place?
TB: I do, yeah. It's the best I've known it by a mile. There's more freedom than there's ever been – I don't mean that chefs are more experimental, just more relaxed. People make what they think is nice. The rise of the neighborhood restaurant has been massive, as has the rise of East London. That's the centre for good food now. It used to be really cutthroat: you'd hear all these stories about so-and-so ringing up so-and-so and making loads of bookings and then not showing up, just so they had an empty restaurant that night. It's not like that anymore, there's much more camaraderie now. Lots of my recipes are inspired by things I've eaten at my friends' restaurants.
MK: So the Gordon Ramsay screaming at people thing doesn't happen anymore?
TB: Not at all. You've got to look after people, even if they piss you off. Putting everything else aside, people won't work for you if you don't treat them well. I also get a kick out of doing nice things: when we opened, one of our guys didn't have enough money to move house, so I lent him the deposit money for a new flat. Another guy was living really far out and walking home every night, so I bought him a bike. There's a kitchen porter that works here, and she sometimes gets frustrated with her English, so we're putting her through a language course. You hope stuff like that will come back to you. I'm lucky that people have done similar things for me, and I'd rather get shafted trying to be a good guy than do well as a bad guy.
• To book a table at Cornerstone go to cornerstonehackney.com or call 0208 986 3922