Tesco share price timeline: One chart showing the dramatic decline of the supermarket giant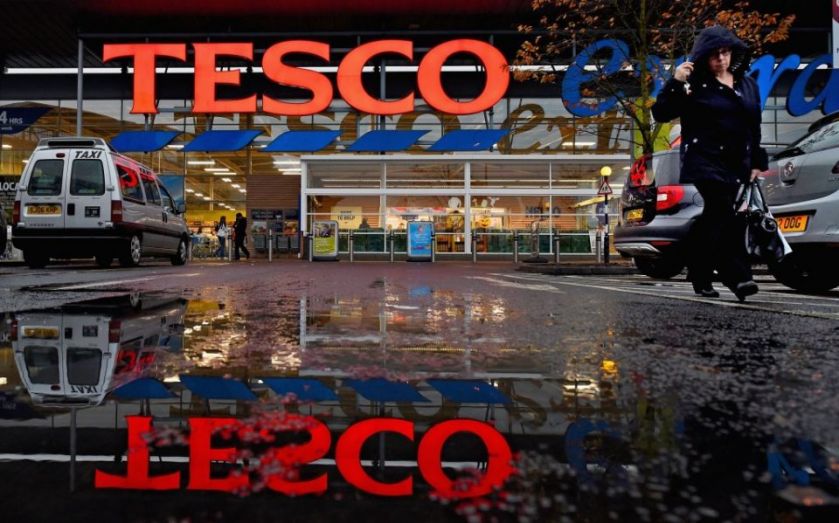 Since 1919, the rise of Tesco as the dominant supermarket chain has seemed unstoppable. It enjoyed rapid expansion in the 80s and 90s which resulted in a huge market share over the last ten years.
This is all now under threat after a series of profit warnings and scandals has cast a bleak shadow over its future. In the latest blow, Tesco has today warned that its full-year profits will be substantially below market expectations, prompting its share price to fall to an 11-year low.
This chart traces the rise and fall of a business giant (click to view an image which can be zoomed in on mobile).
1919
Jack Cohen began selling surplus groceries from a stall in the East End of London. He used his demobilisation money from World War I to buy the first day's stock.
1924
The Tesco brand appeared when Cohen bought a shipment of tea from Mr T. E Stockwell. Their initials and letters were combined to form 'Tes-co'.
1934
Cohen bought a plot of land in Edmonton, north London, for a new headquarters and the UK's first modern food warehouse. He later expanded into London's suburbs.
1947
Tesco Stores (Holdings) was floated on the stock exchange with a share price of 25 pence.
1955
Between 1955 and 1960, Tesco purchased over 500 new stores.
1960
Tesco began selling household goods and clothing in stores.
1974
Tesco opened its first petrol stations, and later became the UK's largest independent petrol retailer.
1977
Tesco's UK chief executive Ian MacLaurin initiated Operation Checkout, a price cut plan in an attempt to boost sales. The group closes 500 unprofitable stores and revamps others with wider aisles and better lighting.
1979
1982
Prices were cut by between 3% and 26% on 1,500 food items, triggering a price war with Sainsbury's. Sales reach £2bn.
1985
Aggressive programme of store and warehouse expansion launched.
1993
In the face of recession, Tesco launches "Every Little Helps" – a value line aimed at fighting discounters. It also moves abroad with the acquisition of Catteau, a 92-store chain in France.
1994
Phase of international expansion, which leads eventually to several continents, continues with the purchase of Hungary's S-Market.
1995
Tesco becomes Britain's biggest food retailer, overtaking Sainsbury's. It launches its Clubcard scheme.
1997
Terry Leahy becomes chief executive and the first Tesco Extra hypermarket opens in Essex.
2000
2003
Tesco takes over T&S Stores, acquiring 870 local convenience shops.
2005
2007
UK market share reaches a high of 31.2%. Tesco attempts to conquer the US with hundreds of Fresh & Easy stores.
2009
2010
Sir Terry Leahy announces retirement after 14 years as chief executive.
2011
Phillip Clarke becomes chief executive as record profits of £3.8bn are announced. The Big Price Drop is launched, but its savings fail to convince consumers. Tesco pulls out of its Japanese operation.
2012
£1bn makeover of stores and website is announced as UK profits fall. Tesco pulls out of its US business, Fresh & Easy, costing it £1.8bn.
2013
The group reveals an annual profit drop, its first in 20 years.
2014
Profits warning announced as Tesco's market share shrinks to 28.7%, the lowest in a decade, losing ground to discounters such as Aldi and Lidl. A £200m price cuts campaign is launched in an attempt to combat this trend.
Clarke is ousted in July, three months after he insisted that he was "not going anywhere". He is to be replaced in October by Dave Lewis, head of Unilever's personal care business.
On 7 August, Tesco's credit rating is cut by Standard and Poor's, causing shares to plunge to a 10-year low. After the year's third profit warning and a cut in dividend by 75%, new boss Lewis starts a month early to review "all aspects of the group".
Shares slump in September as it admits that profits were overstated by £250m. Four executives are suspended, while another three are suspended in October as part of a probe into the accounting scandal. The City regulator, the Financial Conduct Authority, also launches an investigation.
Tesco publishes its delayed interim results. It reveals that accounting errors stretched back for more than two years, and that the black hole stood at £263m. Pre-tax profits plunged 92% to £112m. Chairman Sir Richard Broadbent is to resign.
On December 9, CEO Lewis marks his 100th day in charge with another profit warning, announcing that trading profit for the financial year will be no higher than £1.4bn – considerably lower than predictions of around £2bn. A year ago, Tesco made £3.3bn.