Tesco CEO Dave Lewis quits as supermarket declares turnaround 'is complete'
Tesco chief executive Dave Lewis is stepping down from the Big Four supermarket, it revealed today as it declared its turnaround is complete.

The CEO will leave the business next summer after chairman John Allan said he had accepted his resignation letter "with regret".
Read more: Tesco sells mortgage arm for £3.8bn

Lewis called the decision "a personal one" and said "now is the right time to pass the baton".

Walgreens Boots' chief commercial officer, Ken Murphy, will replace Lewis as Tesco's new boss after Lewis departs next summer.

"My decision to step down as group CEO is a personal one," he said. "I believe that the tenure of the CEO should be a finite one and that now is the right time to pass the baton.

"Our turnaround is complete, we have delivered all the metrics we set for ourselves. The leadership team is very strong, our strategy is clear and it is delivering."

He added: "With these firm foundations and a competitive, sustainable growth strategy in place, I have no doubt that Tesco will kick on again under new leadership next year."
Tesco's share price rose 2.2 per cent in morning trading to 244.76p.

Allan said Lewis had "done an outstanding job" in turning Tesco after joining in September 2014, when the supermarket revealed it had overestimated annual profits by £250m.

Allan called Lewis' successor, Ken Murphy, "a seasoned, growth-orientated business leader".

"Ken has values which align with our own, strong strategic and operating acumen, and is proven at the very top of a large and respected multinational retail group," he added.

Lewis' departure came as Tesco hiked its dividend after revealing growth in profits and flat revenue for its half-year results.

The figures

Operating profit rose 12.6 per cent year on year to £1.13bn while profit before tax climbed 6.7 per cent to £494m.

Revenue was almost flat, posting a 0.1 per cent rise, as it hit £31.9bn.

Tesco also slashed back net debt 7.8 per cent to reduce its debt pile to £12.6bn.

Meanwhile, diluted earnings per share slipped 4.6 per cent to 3.31p.

Tesco hiked its interim dividend from 1.67p last year to 2.65p per share this year, a 58 per cent increase.

Why it's interesting

Unilever veteran Lewis was widely considered to have cemented Tesco's turnaround with last year's annual results, boosting profits and dividend.

He has also now hit his target of achieving a four per cent profit margin, actually beating it to hit 4.4 per cent.

While Sainsbury's has opted to drastically shift strategy after failing to pull off its bid to merge with rival Asda, Tesco said today its merger with supplier Booker to generate synergies of £140m this financial year and £200m by 2020-21.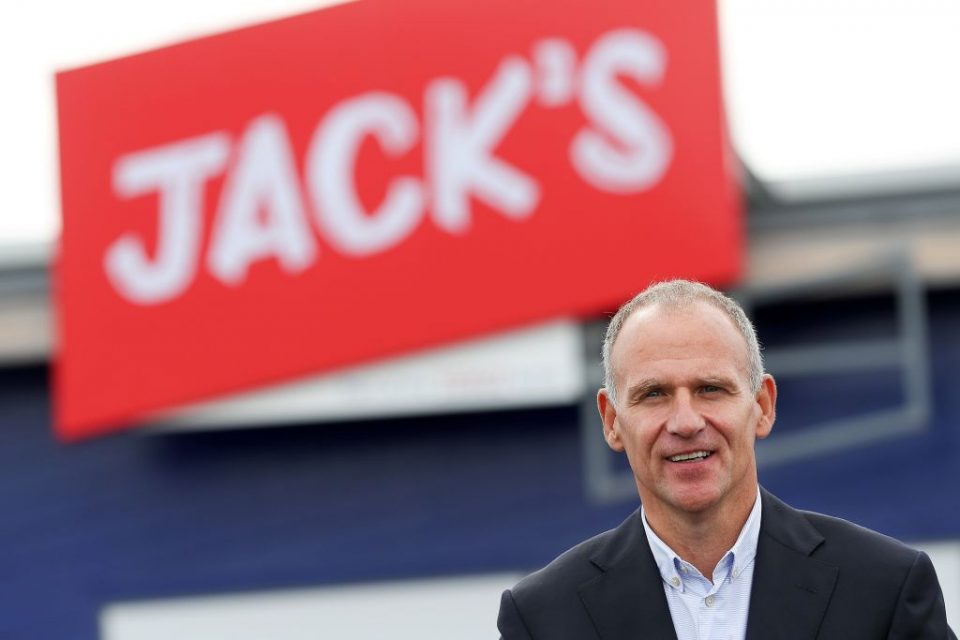 It has also so far fended off a spirited challenge from discounters Aldi and Lidl, which are stealing market share from their Big Four rivals.
However, Lewis' ploy to launch three more budget Jack's stores by February looks questionable in light of Tesco reverting its first Jack's store less than a year after launch.
"Judging by the disappointing performance of the first one success on that front is far from assured," City Index senior market analyst Fiona Cincotta said.
AJ Bell investor director Russ Mould added: "The jury is still out on Jack's but it is clear that Lewis has been a man who has constantly rolled up his sleeves and explored every possible avenue to sharpen Tesco's proposition."
Meet Ken Murphy, the new man at Tesco's reins
As Lewis departs, Murphy is due to take the reins at the top, and will earn a basic salary of £1.35m with a 7.5 per cent salary contribution.
Read more: Tesco turnaround marks milestone for 'Drastic' Dave Lewis

"It's hard to underestimate the impact Lewis has had on Tesco as he turned the supertanker around after a run of poor results and an accounting scandal," Markets.com's chief market analyst, Neil Wilson, said.
"Murphy has solid pedigree, coming from Walgreens Boots Alliance, a retailer that understands cost cutting. He'll need to employ these skills at Tesco where he'll have to contend with tougher organic comparisons post the Lewis era. Moreover the battle with the discounters is only just starting."
"Very few chief executives are good at both fixing and growing a business as these tend to be different skillsets," Mould added. "Lewis' successor Ken Murphy will have to focus on the growth part which is not going to be straightforward. He's coming from Boots which has also been going through a big cost cutting programme amid pressure on earnings. Murphy will therefore need to change his mind-set from recovery to growth as soon as he joins Tesco next year."
"For Tesco, the strategy, with or without Lewis, is to broaden Tesco's reach," said Fidelity Personal Investing's share dealing service associate director, Emma-Lou Montgomery.
She pointed to the launch of 750 Metro stores in Thailand, the acquisition of KFC supplier Best Food Logistics, and the forthcoming Clubcard Plus. "That plan to open a further 150 stores in the UK also sees Tesco go head-to-head with the likes of Aldi and Lidl," Montgomery pointed out.
"Incoming CEO Ken Murphy has big boots to fill, but he is also a cheaper option, for now, and as we're always being told, 'every little helps'," she added.
What Tesco said

Chairman John Allan said:

It is with regret that I have accepted the resignation of Dave Lewis as group CEO of Tesco, who has decided that he wants to leave the business in the summer of 2020. Dave has done an outstanding job in rebuilding Tesco since 2014 and he continues to have unwavering support from the board.


Some time ago, however, he indicated to me that he was considering the best time to hand over to a successor. His openness allowed me to begin a thorough and orderly process to identify a potential candidate to replace him. As a result, today, we have appointed Ken Murphy to succeed Dave as group CEO of Tesco next summer. Ken is unquestionably, a seasoned, growth-orientated business leader. He has deep commercial, marketing and brand experience within retail and wholesale businesses, first with Alliance Unichem, and then with Boots.


He was Joint Chief Operating Officer at Boots UK & Ireland before rising to Executive Vice President, Chief Commercial Officer and President Global Brands at Walgreens Boots Alliance. Ken has values which align with our own, strong strategic and operating acumen, and is proven at the very top of a large and respected multinational retail group.


I firmly believe we have the right person for the job. Ken has contractual commitments to his previous employer, and therefore we will announce his precise start date in due course.


Today's results confirm that the Tesco turnaround has been delivered. Under Dave's leadership Tesco has transformed customer satisfaction and rebuilt the business. We can now move forward with renewed confidence. We have an exceptional leadership team, a very clear strategy, a reinvigorated brand and financial strength.