The M3 is back and in rude health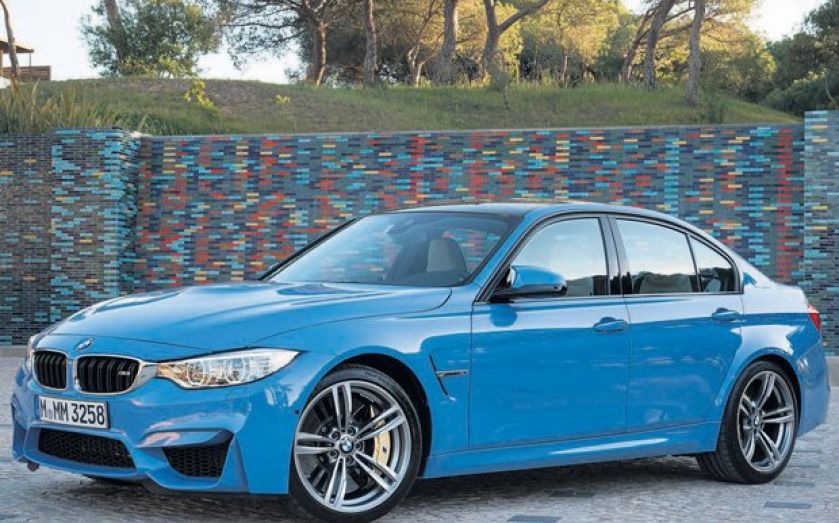 After killing off one of its most iconic models, BMW has found an ingenious way to bring the M3 back to life
BMW's marketing department accidentally killed the M3. For four generations it epitomised everyday Porsche-humbling performance, and had been a hit in the City ever since the original 1980s M3 became a stockbroker pinup. Just as Porsche stubbing out the 911 is unthinkable, surely BMW could never ditch the M3?
But then somebody decided to rename the 3 Series Coupé the 4 Series and, whoops, your M3 Coupé became M4 Coupé. More than 25 years' history down the drain. Quick, what to do? Make a performance version of the 3 Series four-door saloon. Bingo: the M3 is back. Phew.
This is illogical because the four-door M3 traditionally hasn't sold very well. BMW actually stopped importing the last one here in 2011: in that year, it sold just 85 cars (789 M3 coupes and 255 convertibles). Traditionalists who can't yet swallow the M4 badge, it's now your only way to have an M3, so you'll have to force it down.
Besides, there are advantages. Those rear doors open up an easy-access cabin with loads of space for two, and the 480-litre boot is handy, too. The seats are positioned a bit higher, so it's easier to drive in an urban setting – oh, and it has exactly the same ferocious oily bits as the M4, and delivers exactly the same performance.
This means the 431hp 3.0-litre twin-turbo six-cylinder engine reaches 62mph from rest in 4.3 seconds, or just 4.1 seconds if you, as most people will, choose the M DCT seven-speed paddleshifter. It's capped to the same 155mph top speed, and will also average up to 34.0mpg – the fuel cost may not be important but the inconvenience of regular refills is. And sub-200g/km CO2 for the M DCT will look better on the company CO2 emissions balance sheet.
It also has something old M3 V8 drivers never had – torque. Put your foot down and, after a trace of softness (that's the turbos), this pulls, hard. You don't need antisocial revs to make it feel like the performance car it says it is. It's now much easier to go fast in an M3.
Easier to control too. It feels lovely to drive, all classic performance car confidence and a sporty rear-drive feel. Again, the old V8 car was edgy and nervy, with a stiffer ride in town. The Stig will say it's a bit less exciting but most of us will welcome the rediscovery of what used to make the M3 so great.
But what about the nagging doubt that M4 Coupé drivers will always look cooler? Well, it's valid. The coupé has a sleek style the M3 saloon can't match. But BMW has tried damn hard to fit in as much of the M4 stuff as possible – see the massive F1-style air intakes, the flared wheelarches, the quad exhausts, fantastic door mirror sculptures and the crowning glory, a special lightweight roof panel made from actual carbon fibre. BMW's even left it exposed, for yet more F1 cool. We defy anyone to say this car doesn't look the business.
But will it do the business? Or will everyone just buy M4 Coupés and effectively do what BMW thought twice about, and kill the M3? Here's hoping not. This car's far too good for that. It's actually the smart choice of the two: (a bit) cheaper, more practical, easier to live with yet just as fast and exciting.
It's this blend of real world practicality and performance that made the first saloon-derived M3 such a hit. Fingers crossed this one justifies being brought back from the dead.
Richard Aucock works for motoringresearch.com.
THE FACTS: BMW M3
PRICE: £56,175
0-62MPH: 4.3 secs
TOP SPEED: 155mph
CO2 G/KM: 204g/km
MPG COMBINED: 32.1mpg
The VERDICT:
DESIGN Four Stars
PERFORMANCE Five Stars
PRACTICALITY Four Stars
VALUE FOR MONEY Four Stars