London Welsh desperate to avoid completing rugby's worst season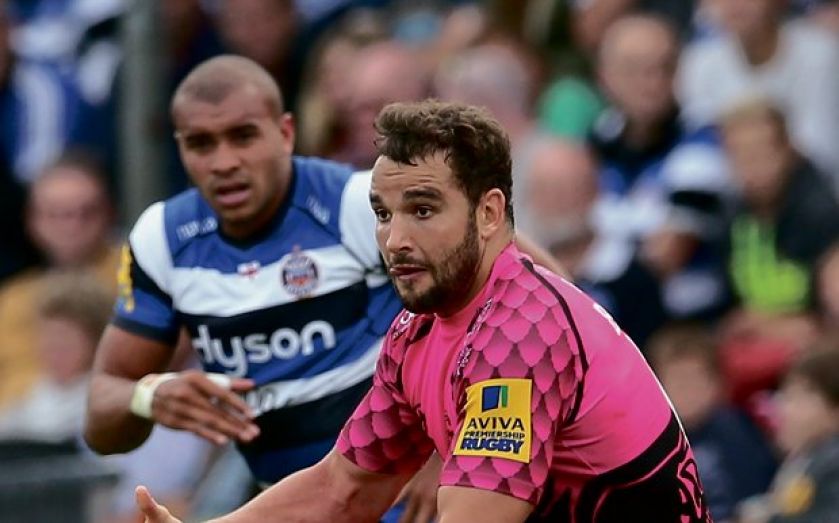 They've lost every game of this campaign and their gym is in a tent, but Ross McLean found Exiles on surprisingly chipper form
IT MAY be tough at the top but that is nothing compared to the burden weighing heavily on London Welsh as the Exiles run the ominous gauntlet of being dubbed the worst team in Premiership history.
London Welsh have lost every single fixture so far this season: 15 consecutive league defeats in English rugby's top flight with a further 10 setbacks in European and domestic cup competitions.
Relegation appears a certainty. Justin Burnell's side are marooned at the bottom of the Premiership, 22 points adrift of closest rivals London Irish and Newcastle Falcons, while just seven matches remain to avoid a campaign whitewash.
Only Rotherham in 2004 have been demoted from the top division in the professional era without recording a single victory. The South Yorkshire outfit were relegated with three points to their name and a -461 points difference. London Welsh have amassed a solitary losing bonus point to date, with a points difference of -545 having conceded a total of 676 – 298 more than the second leakiest defence – at an average of 45 per game.
"The thought of going the whole season without a win sounds horrific when you say it out loud," London Welsh's experienced fly-half Olly Barkley told City A.M.
"We're not robots; you get down about things and picking yourself up is not that easy, but you have no choice, it's your job.
"I'm older now and have been around the block a little bit. I'm philosophical about having to come in and pick myself up. But it's not easy to get to the stage of training with a positive mindset, especially with the history of the season telling you that next weekend is going to be really tough again."
London Welsh extended their tenancy of Oxford United's Kassam Stadium for an additional three years last April after initially moving there in 2012 because their ancestral home was deemed unsuitable for Premiership requirements upon promotion.
Old Deer Park now acts solely as the team's training complex, and among the incongruous on-site marquee-cum-gym and wooden cabin doubling as the club's nerve centre, there remains a group of players fighting against an interminable campaign of despair.
PERPETUAL DEFEAT
Barkley chalked up 82 points in 23 appearances for England between 2001 and 2008 and adds a sprinkling of star quality to the London Welsh squad alongside New Zealand World Cup-winning scrum-half Piri Weepu.
But despite these being atypical experiences for ex-Bath, Gloucester and Racing Metro No10 Barkley, the psychology of dealing with perpetual defeat is not lost on the 33-year-old.
"When I look back to my time at Bath, bad seasons were finishing seventh and eighth," he added.
"But I learned from the guys who were dealing with that badly, guys who were getting down on themselves and being divisive.
"I knew that no good could come from that. Nobody ever did well in any walk of life when they got down and came in everyday with a negative mindset.
"I wouldn't have wanted the younger guys in the squad to have learned lessons in this way but you can learn something from every bad situation.
"Hopefully people will get some positives from this year, I certainly will. This year cannot be looked at as a waste, a lot can be learned from bad times."
The Exiles' last victory came against big-spending Bristol last June at the climax of the controversial play-off system which saw the pre-season outsiders gain promotion to the top flight following a 48-28 aggregate success.
An influx of 25 players followed in three months as the club played catch-up in the transfer market and attempted to build a squad capable of holding its own amongst the elite of English club rugby.
The lack of time to assemble playing staff post-promotion is just one complaint of the club's board, which has protested to Premier Rugby, the body representing top-flight clubs, regarding a further disparity.
TEMPORARY SALVATION
London Welsh argue the odds are overwhelmingly stacked against newly-promoted sides due to the Premiership's shareholding system, with the Exiles receiving 40 per cent less funding, which equates to more than £2m, than established clubs.
Chairman Bleddyn Phillips has confirmed that a relegation plan is already in place but for assistant coach Matt Ferguson, formerly of Bristol and Cardiff Blues, there remains one primary focus between now and the end of the campaign.
"Nobody is sat in the coffin thinking it's all over," Ferguson told City A.M. "Motivation has to come from the frustration and anger that we haven't got over the line yet.
"It's not about going out there and beating people with a stick. If a player doesn't want to be here, to be a professional and to play in this league, there are thousands out there, even with our results, that would love that opportunity.
"If we'd have won our first game, we would now be talking about us losing 20-odd on the bounce. Is the target to get the monkey off our back? The target is to win a game so we can win a second game."
Not all London Welsh's players have failed to hit Premiership heights and Tongan No8 Opeti Fonua has caught the eye sufficiently to earn a move to 10-times champions Leicester ahead of next season.
Their next fixture, statistically speaking, provides London Welsh with a prime opportunity of temporary salvation as second-bottom London Irish visit the Kassam Stadium on Saturday.
"Nobody wants to go into next season having played in a team which did not win a game throughout the whole of the previous season," said Barkley.
"The boys have worked really hard and we now need to focus on doing ourselves justice and getting some sort of reward for the hard work everyone has put in.
"No-one has dusted their hands off, packed up shop and gone away, everyone has stuck in. Everyone wants to pitch in and there has been no bitching.
"I just want the boys to sit in the changing room after a game, smile, have a beer and enjoy a win."
FACTFILE
■ Formed: 1885
■ Ground: Kassam Stadium, Oxford. Formerly Old Deer Park in Richmond
■ Head coach: Justin Burnell
■ Club captain: Matt Corker
■ Team captain: Tom May
■ Notable former players: JPR Williams and Gerald Davies
■ Welsh captains: Teddy Morgan, Wick Powell and John Dawes
■ Most recent British and Irish Lion: Robert Ackerman in 1983