Liverpool stadium expansion will give Anfield third largest capacity in the Premier League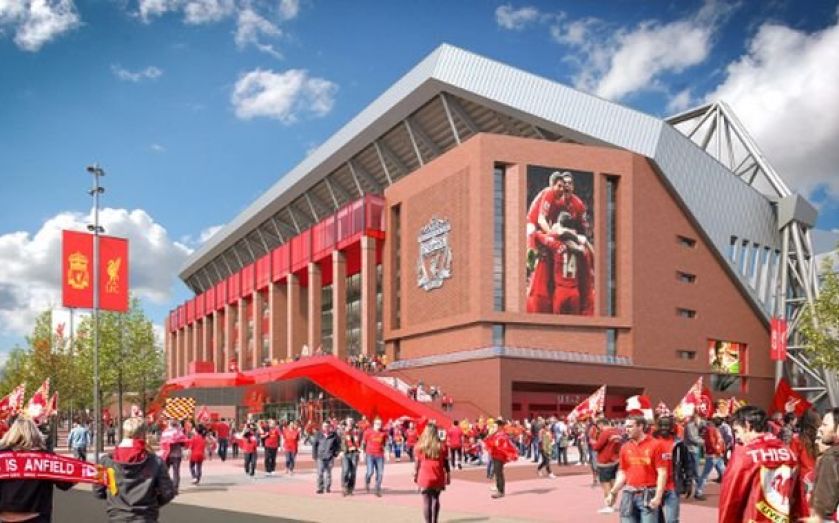 After being given the go-ahead to expand Anfield by 8,500 seats, only Manchester United and Arsenal will be literally "bigger" than Liverpool in the 2016-17 season.
It's a significant step up for the Reds who, despite boasting one of the most atmospheric stadiums in world football, have lagged behind their domestic rivals when it comes to bodies through the turnstiles.
This season, Liverpool's stadium capacity is dwarfed by five other clubs – Manchester United, Arsenal, Sunderland, Newcastle United and Manchester City.
Anfield used to have a capacity far closer to the Emirates Stadium's current 60,000, but it was vastly reduced in 1994 following the Taylor Report which recommended all-seater stadia following
the Hillsborough disaster of 1989
.
No wonder the club has been exploring various expansion or relocation possibilities for well over a decade. Since 2002, when plans to replace the ground were initially proposed, Liverpool have been left trailing in the wake of their rivals when it comes to match day revenue.
For example, if Manchester United and Liverpool were to both sell out every game across a Premier League season, the Lancashire club would receive around 1.1 million more spectators.
With season tickets priced between £532 and £950 at Old Trafford (compared with £710 and £869 at Liverpool), it doesn't take a Harvard mathematician to see how gate receipts begin to tot up in favour of the Reds' rivals spending power.
However, due to the seemingly unshakeable strength of their brand, Liverpool's commercial and broadcast revenues for 2013 stood up remarkably well to their competitors, even without a slice of the bumper broadcast windfalls generated from European football.
Yet on match day revenue, only Manchester City have generated smaller sums than Liverpool. United added £64.5m more to their coffers from match days than Liverpool, while Arsenal had £48.2m more to play with.
With Liverpool looking to cement their place in the Champions League and win their first league title for 25 years, any extra income that could in turn lead to extra transfer funds would be undoubtedly welcomed by the fans.
According to Liverpool managing director Ian Ayre, the increased revenue generated from the redevelopment will be used for exactly that.
In 2012 he told the club's official website:
More so from it detracting from our spending in the transfer market, the whole point of doing this is to actually increase our revenues.

If we look at our biggest competitors with a bigger capacity, like Manchester United [and] Arsenal, their matchday revenues are significantly ahead of ours.

This whole initiative is designed to generate additional revenues so the ultimate solution has to be one that increases the overall output through the process rather than decreasing it.