Iain Duncan Smith says David Cameron will not serve full second term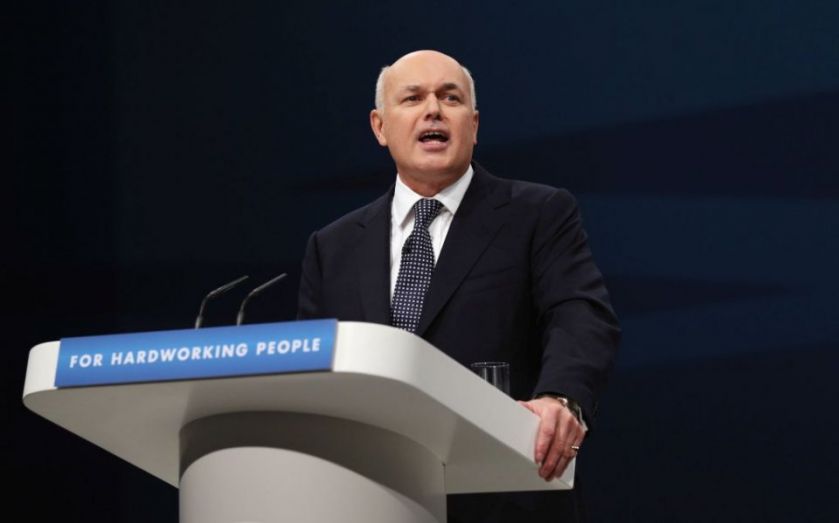 Iain Duncan Smith has claimed David Cameron will not serve a full second term as Prime Minister if elected, contradicting Cameron's own statements last week.
Cameron said he wanted to "finish the job" in a second term but ruled out the possibility of a third term.
However work and pensions secretary Duncan Smith veered from the Party line in an interview on the BBC's Andrew Marr Show on Sunday, admitting that there would have to be a Conservative leadership contest before the 2020 election.
When asked if Cameron would have to step aside during a second term to make way for a leadership contest the former Tory leader said: "Yes that's right, he does."
Duncan Smith said:
Of course there will be a competition at some point, but that will be a competition on the back of a successful Prime Minister doing something that most Prime Ministers have never done before: saying 'I know when it's time to go.

You've had to literally rap the knuckles of people like Gordon Brown and previous prime ministers to get them to think of going, but he's [Cameron] actually very keen to say 'there is a limit, there's an amount of time a prime minister should serve before they get stale' And he is right about that.
The senior cabinet minister added that Cameron set a date for his departure and he would be "sorry to see him go", praising him for his record on the economy.
In his own interview with the BBC last week, Cameron said his party had "some great people coming up" and alluded to Theresa May, George Osborne and Boris Johnson as potential replacements.
However, Duncan Smith shied away from endorsing the suggested names, saying: "Having been leader of a party that was interested in having a fight in an empty room in those days but now has changed and wants to have power, I have given up making predictions about who should be doing what."