Global risks: From a lack of water and weapons of mass destruction to migration and climate change, this is what could go wrong in 2016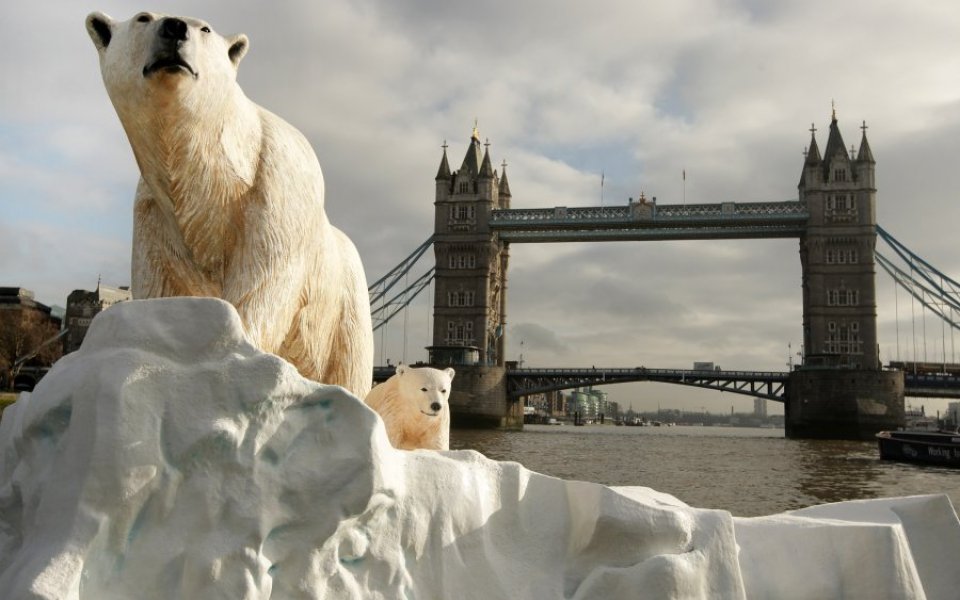 The World Economic Forum's Global Risks Report is here, and makes for cheerful reading: risks are getting riskier, and different risks are more connected. "Such a broad risk landscape is unprecedented in the 11 years the report has been measuring global risks," the World Economic Forum said in a statement.
These are the seven things you need to be worried about in 2016:
Climate change
The number one global risk, in terms of impact, is the failure to mitigate and adapt to climate change. It is the first time since the report was first published in 2006 that an environmental risk has topped the ranking, although it has been in the top five risks for the past five years.
"Climate change is exacerbating more risks than ever before in terms of water crises, food shortages, constrained economic growth, weaker societal cohesion and increased security risks," according to chief risk officer at Zurich Insurance Group, Cecilia Reyes.
Weapons of mass destruction
Weapons of mass destruction have their highest ever placing in the Global Risks report, and would be the second most impactful.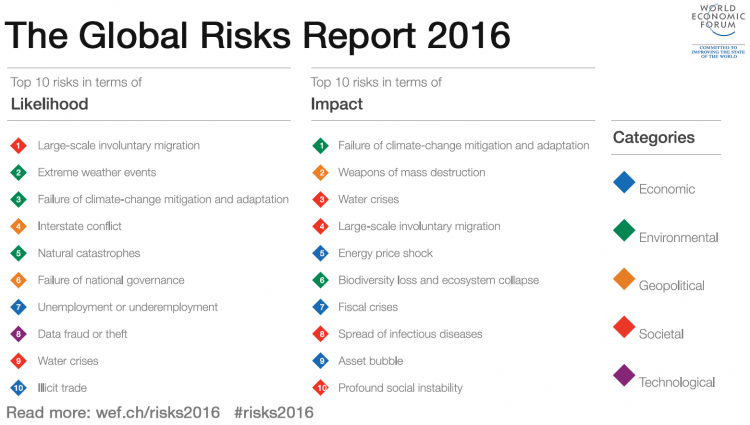 Water crises
Strongly linked to climate change, and large scale migration, the panel highlighted water shortages as one of the connected risks which defined the report. This risk is judged to potentially cause the third most damage.
Large scale involuntary migration
This is the most likely risk, with the fourth biggest impact, and is the fastest rising, as evidenced by the disruption in Calais, and the scenes on Mediterranean beaches.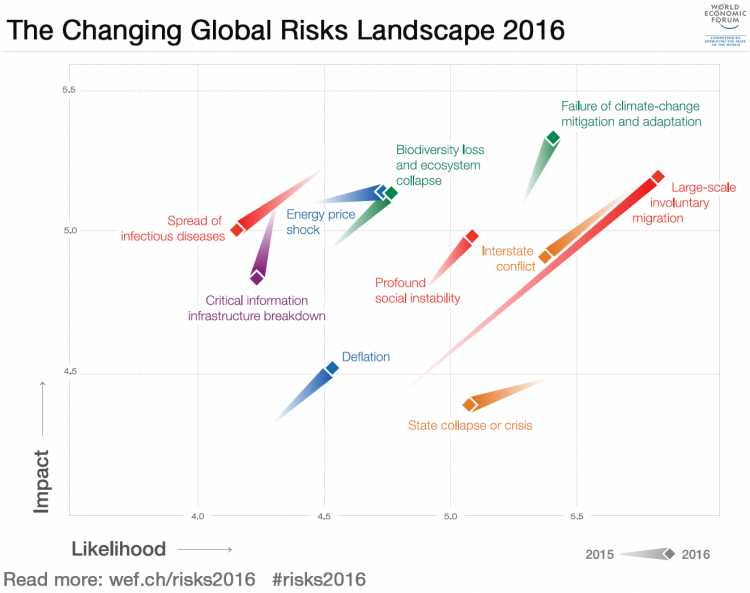 Severe energy price shocks
The fifth biggest risk in terms of impact. This also appeared as one of the most widespread risks for doing business. The World Economic Forum's separate survey of business leaders found energy price shock to be one of the top 5 risks for businesses in 93 countries.
Interstate conflict (with regional consequences)
This was 2015's most likely risk, but has dropped to fourth most likely in 2016.
"Events such as Europe's refugee crisis and terrorist attacks have raised global political instability to its highest level since the Cold War. This is widening the backdrop of uncertainty against which international firms will increasingly be forced to make their strategic decisions. The need for business leaders to consider the implications of these risks on their firm's footprint, reputation, and supply chain has never been more pressing," said John Drzik, president of global risk and specialties at risk consultants Marsh.
Cyber attacks
This is actually one not to worry about so much, despite the series of recent high-profile hacks at companies and government agencies around the world, this is only number 11 on the list, both in terms of impact and likelihood.
Business leaders cited cyber attacks as the top risk in eight countries, including the US, Japan, Germany, Switzerland and Singapore.