Food trends 2016: black food, Persian food and cherry bakewell tarts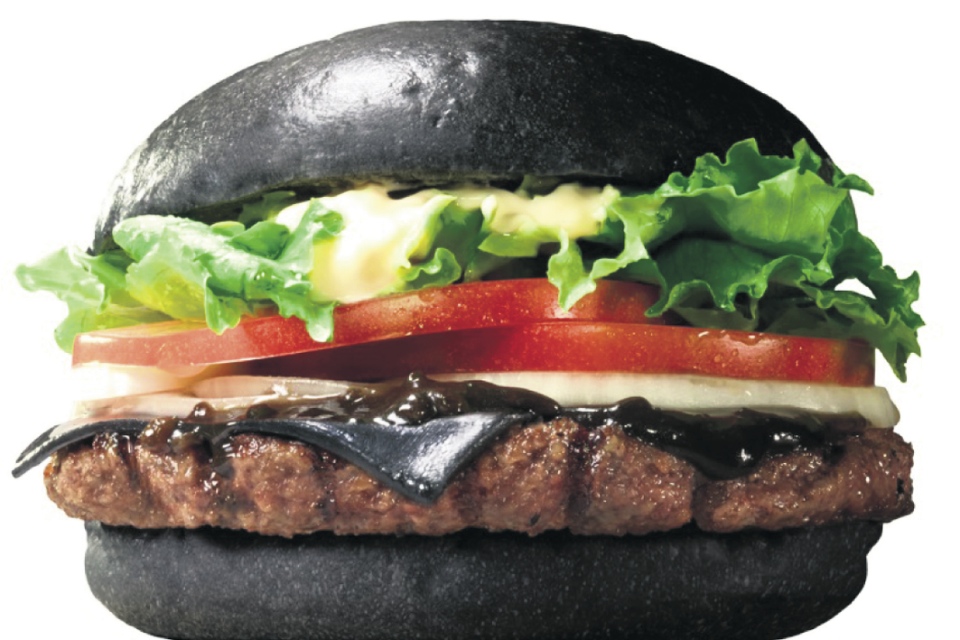 Black to snack
Bamboo blackened brioche buns, dark ribbons of squid ink pasta and even charcoal-infused water will herald the arrival of what might be this year's least appetising food trend. In 2016 expect to eat black food, very black food, darker than the howling souls of the damned. Burger King Japan kicked off the unlikely craze last year with their kuro burger.
Basil ice cream anyone?
Gone are the sugary sweet treats of 2015, and here to stay are a new range of savoury desserts infused with herbal ingredients and flavours you'd expect to find in your main course. "I predict more savoury, herb-based desserts like mango and white chocolate mousse with basil and an influx of coastal and woodland ingredients such as seak buckthorn, wild garlic, wood sorrel and sea beets," says Matt Hill, leading dessert oracle and head chef at Down Hall Hotel.
​Persian food will take off
When Sabrina Ghayour's best-selling cookbook Persiana began flying off shelves and into kitchens, supermarkets immediately began stocking up on pomegranates, dried limes and saffron in anticipation of a Persian revolution. From chelow kabab to khoresh stew, we're tapping more and more into this middle-eastern cuisine. "With its freshness and vibrancy, Persian food is all about small plates enjoyed in an informal dining setting," says Jonathan Moore, executive chef at Waitrose.
We'll all be inundated with cherry bakewells
Surprisingly enough, the cherry bakewell is pegged to be 2016's hottest tart by a country mile. But don't just take our word for it, chefs across the city are already working on their own unique takes on the jammy almond confection, eager to score a piece of this popular pie. Allan Pickett, chef patron at Piquet, confidently predicts that "the bakewell tart will make a firm comeback and chefs will be creating variations on it using rhubarb jam and damson jam." You heard it here first.
Gourmet Takeaways
Apps like Deliveroo, Dine-In and GrubHub are disrupting the takeaway business to bring dishes from top restaurants straight to your door. This presents new challenges for the food world, according to chef patron Allan Pickett. "Delivery from top end restaurants is set to boom in 2016 and restaurants will need to keep up with the current technology available to make it happen."
Spirits will be more flavourful
Dust off that highly suspicious bottle of toffee flavoured vodka that's been sitting at the back of your drinks cabinet since 2002, because flavoured spirits are due for a big comeback this year. There'll be more importance being placed on varying types of gin, rum and tequila and increased demand for a wider range of original new flavours. Think Arbikie chilli vodka and Warner Edwards' rhubarb and elderflower infused gins.
We'll reach peak Peruvian
London's passionate love affair with Latin-American food is already well established, with joyously fishy eateries like Old Street's Ceviche representing the very best of Peruvian cuisine. This year we'll see the culinary net cast even farther afield. "Cuban, Filipino and Hawaiian cuisines are set to make a big impact on the foodie scene in 2016," say Harrods, who plan to introduce new products from restaurants Sushisamba and Lima to their food halls.
Restaurants will become hangouts
"More and more, people are coming to restaurants not just to eat, but for their evening's entertainment," says Ross Shonhan, owner of Bone Daddies. "So we will see more grand, open dining rooms where people are encouraged to stay after dinner, rather than move on elsewhere. London has always stuck to the rule book when it comes to restaurants too, and I think those traditions are now being challenged. So expect to see places that fit less perfectly in a box and simply serve great food with a variety of influences. Black Axe Mangal is a good example."