Ed Miliband: David Cameron's divided party is now a clear and present danger to UK business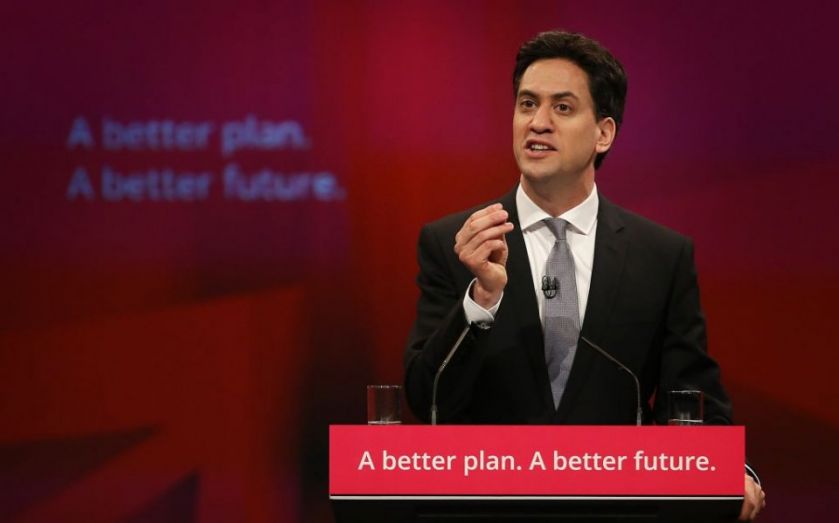 ELECTION COUNTDOWN 38 DAYS TO GO
Today the Prime Minister is going to Buckingham Palace. Parliament is dissolved and the General Election is finally underway.
This election is not simply a choice between parties and leaders but between different visions of our country, of how we succeed, of the kind of country we can be.
So I am proud that Labour has chosen the very first day of this campaign to publish our Business Manifesto, a better plan focused firmly on securing a better future for business, for working people and for Britain.
It is a plan to help firms become more productive by working with a government committed to balancing the books, investing in infrastructure, improving skills and opening up more competitive markets.
It is a plan for greater prosperity, building on the great strengths of British business to deliver higher wages, higher skills and higher profits for firms and families together – not risking jobs, exports and investment by threatening to leave Europe.
I want to be clear about the choice facing voters at this General Election. It is between a Labour government that will always put the national interest first and a Conservative government that is now a clear and present danger to jobs, businesses and investment.
Over the past five years, under pressure from his own backbenchers and Ukip, David Cameron's government has been marginalised in Europe while the Tories have become a party increasingly arguing for exit from the EU.
If he gets another term, David Cameron now promises a referendum on an arbitrary timetable of 2017, after negotiations for which he has no strategy for winning the support of 27 other member states, and without even saying whether he will be campaigning to stay in Europe or leave.
It will be a referendum on our membership of the European Union organised by a divided Conservative Party, half of whom want to leave, and a Prime Minister who no longer knows whether he is coming or going on this crucial issue of our national interest.
At the same time, Mr Cameron has confirmed there will be a leadership contest to succeed him in which candidates will be vying against each other for who can be the most extreme on Europe.
This is a recipe for two years of uncertainty and chaos, when inward investors will hold off, businesses will be held back from planning for the future. Opportunities for progress, profit and prosperity will be wasted.
Labour's priority is different. We will put the national interest first and back British business to create the high skilled, high wage jobs our country needs.
We will raise living standards, cut the deficit every year, and compete on a global stage with measures including:
Cutting business rates for more than 1.5m small business properties and maintaining the most competitive Corporation Tax rate in the G7.
Establishing a British Investment Bank so that businesses can get the finance they need to grow.
Introducing new gold standard technical qualifications to fill skills gaps, working with businesses to create thousands of new apprenticeships, and ensuring all young people study English and Maths to 18.
Creating a new National Infrastructure Commission to drive a long-term approach, including a world-class transport system and investment in low carbon technology and jobs.
Supporting access to international markets by returning Britain to a leadership role in a reformed European Union.
Instead of leaving the EU, our priority will be to build the alliances needed to change the EU so that it works in the best interests of our country and our businesses.
We will focus the EU on jobs and growth, tackle waste and inefficiency, and ensure fair rules on immigration.
If I am Prime Minister, I will get the best for Britain. But I won't condemn this country's businesses to years of uncertainty and insecurity by threatening our European future.