This is a live blog, please hit refresh to update
6pm – Live blog wrap
Well, that's your lot for today – at least, in terms of this live blog. My colleagues will be picking up on the rest of the appointments this evening and tomorrow.
It was quite a day – certainly more of a roller-coaster than had been billed. It started out with the disappointing, if not surprising, sacking of Northern Ireland secretary Julian Smith, who received praise from politicians of all stripes for his work in getting Stormont back up and running last month.
There was some other expected changes – business secretary Andrea Leadsom, attorney general Geoffrey Cox and environment secretary Theresa Villiers being given the chop, for example – while Commons leader Jacob Rees-Mogg clung on – a sign that, for all the Prime Minister's talk of gender balance and wider diversity, Old Etonians still have a role to play.
But of course the biggest news of the day was chancellor Sajid Javid's resignation over Number 10's adviser land-grab. He has left with a final warning for Boris Johnson.
Now his deputy Rishi Sunak is in charge, questions are being asked about what that means for the independence of the Treasury and, somewhat pressingly, what it means for the Budget. Will it still go ahead on March 11? That's not clear right now.
5:09pm
An emotional looking Javid has just done a quick doorstep interview. He said he could not accept the "conditions" imposed on him – that his team of advisers be sacked – although stressed they were conditions put to him by the Prime Minister rather than his adviser Dominic Cummings.
He said "no self-respecting minister" could accept them – in an apparent dig at Rishi Sunak – although went onto say he would support Sunak and the government in general.
4:35pm
The latest news from afternoon lobby suggests the reshuffle could have implications for next month's Budget, after Sajid Javid's surprise resignation.
4:10pm
Steve Barclay has taken over from Rishi Sunak as chief secretary to the Treasury. This is a return to the department for Barclay – who was until last month Brexit secretary. Previously Barclay was City minister, a role he received much acclaim for.
4pm
Downing Street has confirmed a string of ministers in their existing roles, including transport secretary Grant Shapps – although there is no word yet on the two vacated roles in his department – and defence secretary Ben Wallace.
Brandon Lewis has been named Northern Ireland secretary, taking over from Julian Smith who was one of the first casualties this morning.
Simon Hart stays as Wales secretary, while Alister Jack remains as Scotland secretary.
3:20pm
George Eustice has been named environment secretary, taking over from Theresa Villiers who was sacked this morning.
Chief whip Mark Spencer is understood to have been pushing for the role, given his background as a dairy farmer, but it wasn't to be.
3:11pm
Robert Jenrick – another of those who came out in support of Boris Johnson during the leadership campaign – stays on as housing and communities secretary.
3:04pm
Gavin Williamson stays on as education secretary.
2:52pm
Miles Celic, chief executive of TheCityUK, has responded to the new chancellor:
"Rishi Sunak knows the Treasury well and we look forward to working with him in his new role. Our industry is a national success story and an engine for prosperity across the whole of the UK, as well as being our country's most successful exporter and biggest tax payer.

"We've no doubt that Treasury and the industry will continue to work together closely as we seize the opportunities and navigate the challenges of the coming years."
2:48pm
Suella Braverman, who resigned as a Brexit minister under Theresa May, has been named attorney general. She will attend Cabinet.
Therese Coffey remains as work and pensions secretary.
2:35pm
Sounds like the Javid standoff has pushed things back a bit, and Number 10 is now briefing that the reshuffle might take a little longer than planned. Bad news for anyone who needs to nip out for last minute Valentine's Day presents…
So let's have a round-up of what we know.
Northern Ireland secretary Julian Smith was sacked first thing – he's not been replaced yet.
Business secretary Andrea Leadsom has also gone. She's been replaced by Alok Sharma, who also has responsibility for the climate change summit COP26.
Sharma's role of international development secretary has been picked up by Anne-Marie Trevelyan.
Of course, the biggest story of the day has been chancellor Sajid Javid resigning in a shock move, over a stand-off over his special advisers. Deputy Rishi Sunak has replaced him – but we don't know yet who will take on his role as chief secretary to the Treasury.
There are plenty of non-movers – home secretary Priti Patel, foreign secretary Dominic Raab, chancellor of the Duchy of Lancaster Michael Gove, health secretary Matt Hancock and justice secretary Robert Buckland among others.
But the Department for Transport lost two ministers – Nus Ghani and George Freeman.
2:03pm
It looks like it's not just Sajid Javid's special advisers who had to go today – justice secretary Robert Buckland, who is staying in his post, has also lost his Spad. It's not clear why, but last year advisers' contracts changed, handing ultimate responsibility for hiring and firing to Number 10.
1:59pm
Oliver Dowden has been named as the new culture secretary, taking over from Nicky Morgan, who was planning to step down.
1:44pm
Liz Truss remains as international trade secretary. At one point it was rumoured she would be for the chop, but more as a function of a wider desire to get rid of her department.
Truss has a good relationship with the Prime Minister, is a senior woman, and is just the right side of independent – she's also been a good advocate for the Global Britain concept, so it's helpful to Number 10 that she stays.
1:34pm
Anne-Marie Trevelyan, who was a defence minister, has been named international development secretary.
Matt Hancock is staying as health secretary.
1:31pm
Nick King, who was Javid's spad when he was housing and communities secretary, has this to say:
1:18pm
Things have quietened down a bit, and everyone is still digesting what Sajid Javid's departure means – beyond Dominic Cummings winning the turf war.
Former Treasury minister and justice secretary David Gauke says it is a question of credibility and independence. He's not a fan.
However, he makes it clear that Rishi Sunak could still be his own man and is actually in a position of strength.
12:32pm
Trying to keep on moving forward, the government has announced that Alok Sharma is now business secretary. He'll also have responsibility for the climate change conference COP26.
12:23pm
So, who is the new chancellor Rishi Sunak? You can find out here (and yes, he's the son-in-law of a billionaire businessman).
12:08pm
This is huge, huge, huge news. The pound has dropped because it was so unexpected – Javid was due to give the Budget in less than a month and has been critical in some of the understanding of Johnson's view of the world – a little Keynesian, with bold plans for spending on infrastructure.
Is that the end of it? We reported earlier this week that City minister John Glen could be at risk from the same tensions between the two camps, having been seen being given "a bollocking" during an XO meeting before the election. You can read about that here.
11:51am
Breaking – Chancellor Sajid Javid has resigned.
Although he was thought to be personally safe, it seems he was told his special advisers had to go. We have the full story here.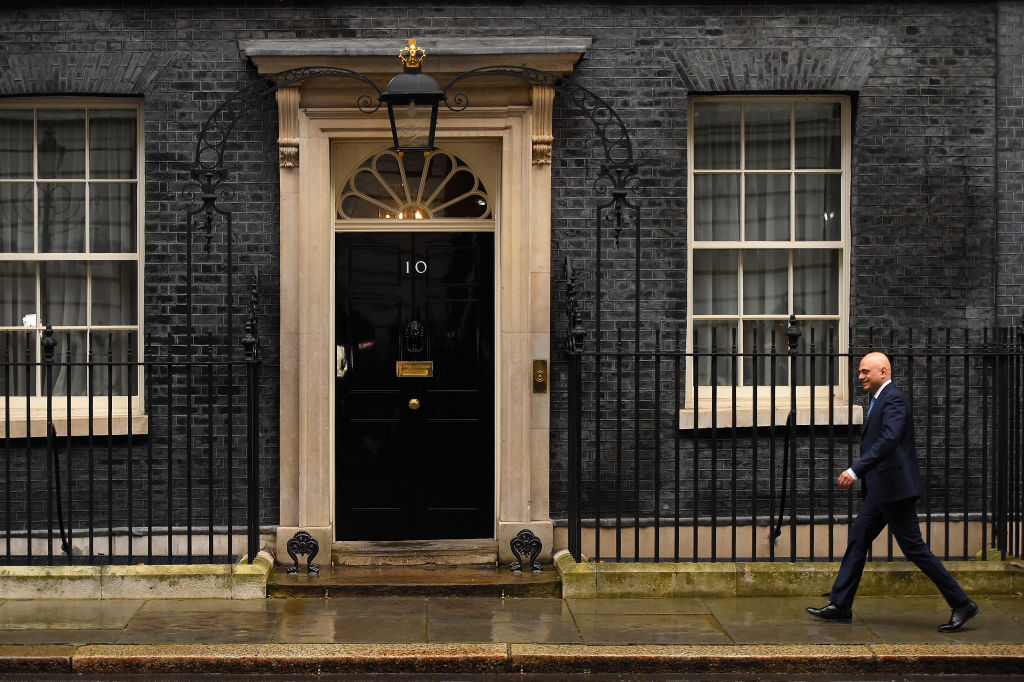 11:48am
Is something afoot with the chancellor? We had been told he was safe, largely because of his personally friendship with the PM, despite a "turf war" with Dominic Cummings. But The Times' Steven Swinford has tweeted this:
11:36am
Contrary to the overnight trail pushing the PM's commitment to gender diversity, so far the two people seen going into Number 10 are men – Rishi Sunak and Alok Sharma.
Meanwhile among the Cabinet roles up for grabs are business secretary, vacated by Andrea Leadsom; environment secretary, formerly Theresa Villiers' role; culture secretary, which Nicky Morgan has stepped down from; and Esther McVey's old role of housing minister. Other empty seats at the table include Northern Ireland secretary and attorney general.
Secretaries of state including home secretary Priti Patel, chancellor Sajid Javid and foreign secretary Dominic Raab have also gone in already but they are all expected to stay in place.
Robert Buckland, justice secretary, has also paid a visit.
Meanwhile, Smith has received praise from outgoing Taoiseach Leo Varadkar:
11:08am
It's clear that Julian Smith's sacking is going down badly – it seems likely it was motivated by his former comments that a Brexit no deal would be bad for Northern Ireland, as well as longer-term animosity stemming from his time as chief whip.
Here is what Arlene Foster has to say about it all.
The other big upset is Nus Ghani from the Department for Transport. A clever, young Asian woman, her removal seems to go in the opposite direction to that promised by Number 10. And it seems she was given no real explanation for it – although it could have something to do with HS2.
10:31am
Another transport minister, George Freeman, has been sacked.
10:24am
Here is Geoffrey Cox's statement on being sacked as attorney general – interestingly, he states that it is "at the PM's request" and makes a point of highlighting his championing of Boris Johnson during the leadership contest.
10:17am
Transport minister Nus Ghani has been sacked.
10:07am
Breaking: Geoffrey Cox has been sacked as attorney general. He had been letting it be known he was happy to go back to private practice, so that's not a huge surprise – but it does open up another senior position in Johnson's team.
Also confirmed – Theresa Villiers has been sacked as environment secretary. This was also widely expected.
10:04am
No doubt there have been other sackings that we've not yet heard about but the PM has done the hard work – he's now on his way back to Downing Street to dish out the promotions.
10am
Andrea Leadsom's departure might not have caused much surprise in Westminster, but that doesn't mean she'll be missed in the business world. The CBI's deputy director general Josh Hardie has thanked her for "your open, collaborative and pragmatic approach".
Julian Smith's sacking seems to be the most controversial so far. He was widely viewed as having done a good job. Here's what Ireland's deputy PM (Tánaiste) Simon Coveney thinks:
9:53am
Breaking: Housing minister Esther McVey is out – again not a huge surprise, but as a northern woman who represents a blue collar part of the country, the Prime Minister will have to ensure she is replaced well.
And here is Andrea Leadsom's confirmation:
9:48am
Breaking: Business secretary Andrea Leadsom has been sacked – widely expected, but nonetheless does make the PM's self-imposed challenge of keeping the number of women in the Cabinet level a challenge.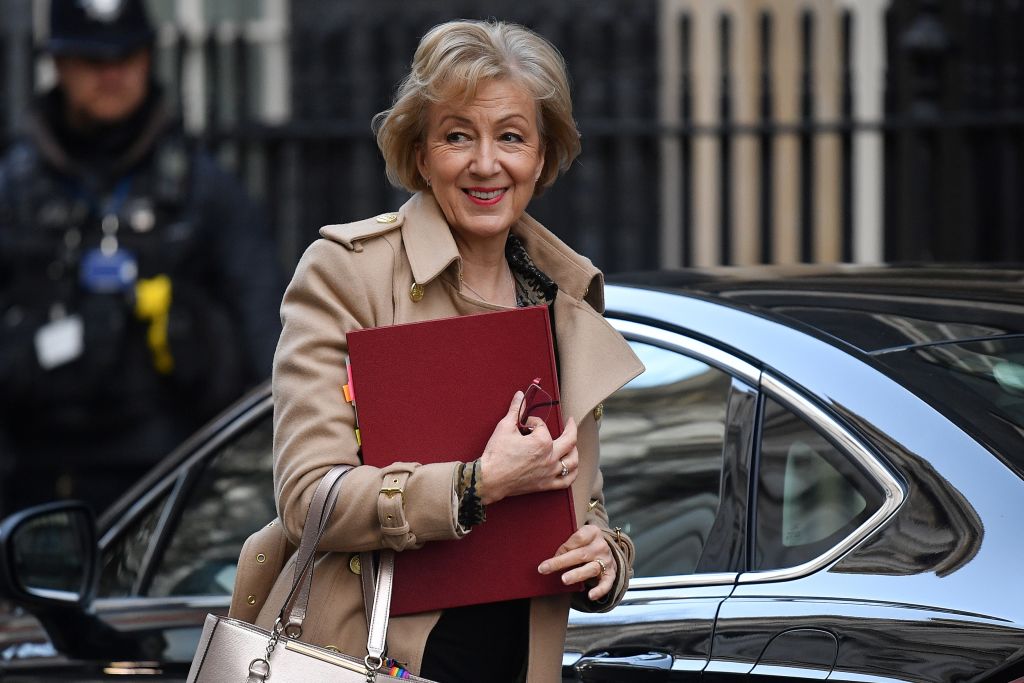 9:41am
Science and universities minister Chris Skidmore is out… but he doesn't seem too upset.
9:34am
So Julian Smith is out – could Conor Burns be his replacement? There is some chatter suggesting he is being lined up to take over.
Burns is a long-time ally of Johnson, having been his PPS at the Foreign Office. Burns, who is currently a trade minister, was born in Belfast and has served as a PPS to former Northern Ireland secretary Hugo Swire.
9:22am
Breaking – first Cabinet secretary confirmed to be out is Julian Smith, Northern Ireland secretary.
Smith was thought to have done enough to cling on after his work getting Stormont back up and running – but his departure isn't raising that many eyebrows on the Tory benches.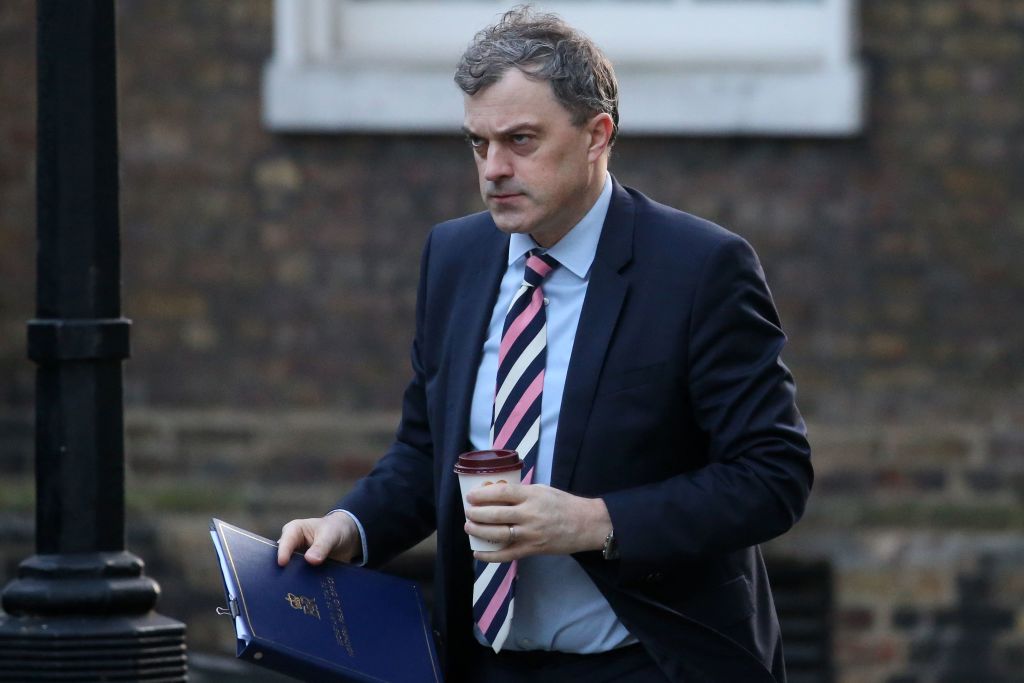 9:14am
As expected, the sackings are still going on behind closed door. So who are the new (ish) names that we know about?
Suella Braverman is expected to return to government, having been a Brexit minister under David Davis. She's a dyed-in-the-wool Leaver, having chaired the ERG for a time, and recently returned to parliament from maternity leave.
Another Brexiter expected to be handed a promotion is Anne-Marie Trevelyan, somewhat undermining Number 10's claim that Remain/Leave labels are being dropped. Trevelyan is currently a junior defence minister, but she resigned as a PPS in 2018 over Theresa May's Chequers plan for leaving the EU.
Gillian Keegan is one of the more junior names in the frame. She's only been an MP since 2017, and never held a government role. But she is popular – she was flagged to me by a senior backbencher as one to watch not long after the 2017 election – and her promotion is going down well.
The Getty Image will be here
8:52am
While Boris Johnson is enduring the less pleasant part of the day – sacking ministers – he is also facing questions over who paid for a £15,000 holiday on the Caribbean island of Mustique. You can read the details here.
8:29am
Tories are really looking for cues from today's reshuffle of what kind of government Boris Johnson hopes to build.
Here's what one MP texted to say:
The important thing underlying it all is how will the government actually implement levelling up? Cos that is the essential domestic policy question of this govt… They need ministers who can provide answers… Pr won't help you get there on a tough problem.
The problem is that no one really knows what Johnson stands for. Will his need to play to the Red Wall voters make him more interventionist? He's thought of as socially liberal – but let's not forget how he damned David Cameron as a "girly swot". Is he a dyed-in-the-wool Thatcherite? As this comment piece explores, he has no tribe, which could leave him vulnerable in future – but today could be his opportunity to change all that.
8:14am
Westminster is full of speculation that anyone "pale, stale and male" is at risk – as one backbencher put it earlier this week: "The white men who aren't personally close to Boris Johnson, or seen as brilliant, will be in trouble."
Other than women, Johnson is likely to prioritise MPs who represent wider parts of the country – Northern and Midlands constituencies, collectively known as the Red Wall. Although 2019 intake will be too new and inexperienced, the 2015 and 2017 intake will be prime pickings.
8:02am
Good morning all.
It's a soggy day for it, but today's the day Boris Johnson picks his new team, and with it sets his vision for the post-Brexit world.
Sackings were expected to begin from 8am this morning, but City A.M. understands there will be no walks of shame for ex-ministers to endure – so the action probably won't be visible until mid-morning.
Here's what we know so far: the Prime Minister is planning to maintain the number of female Cabinet ministers, and increase the proportion of women in junior roles.
Read more: Johnson pledges to 'set foundations' for gender balanced Cabinet in today's reshuffle
Confirmed names for promotions include Anne-Marie Trevelyan, Suella Braverman and Gillian Keegan, alongside Alok Sharma and Oliver Dowden.
Dowden has been tipped to take over from Nicky Morgan as culture secretary.
Treasury minister Rishi Sunak has also been heavily touted as a contender for promotion. Other rumoured names for promotion include Victoria Atkins and Penny Mordaunt, who could take over from Ben Wallace as defence secretary.
Read more: Turf war threatens Treasury as NO 10 prepares for reshuffle
Johnson's big headache will be replacing what is seen as a relatively large number of underperforming women – as well as Morgan, who is stepping down voluntarily, we are likely to see environment secretary Theresa Villiers and business secretary Andrea Leadsom go, while questions are being asked about trade secretary Liz Truss.
Truss might be saved by the fact that DIT, which at one point looked likely to be merged into the Cabinet Office, appears safe – at least for the next few months.
We will be watching Downing Street throughout the day, and bringing you all the news as it happens, so please hit refresh for the latest updates.