British Airways suffers turbulence as brand perception drops
Last week, British Airways (BA) made headlines as 380,000 customer payment cards were affected by a severe data hack which compromised the personal and financial details of several customers.
Unfortunately for BA, this news comes after a difficult couple of years which it has spent battling with negative press associated with a large-scale IT glitches, cancelled flights and pricing errors.
Shares in the owner of BA, IAG, fell by nearly three per cent at the end of last week, following what British Airways' boss Alex Cruz described as a "sophisticated and malicious criminal attack". YouGov BrandIndex data points to how the public has reacted in the immediate aftermath of the hack.
BA's buzz score (whether someone has heard something positive or negative about a brand) has dropped from two to minus 31.
Not only are people hearing negative news, they are talking about it too – with word of mouth (whether you have talked about a brand with friends or family in the past two weeks) increasing from nine to 18.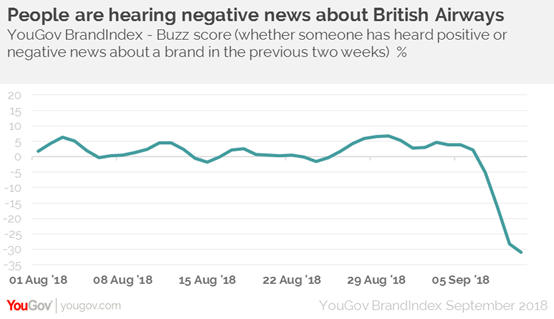 In YouGov's Airlines Report 2018 (which was published in August) BA held the top spot in terms of impression score (whether someone has a positive or negative impression of a brand) within the airlines sector.
However, since the news was announced mid-last week, BA's impression score has dropped from 23 to 12, knocking it from first place.
Read more: August was the second busiest month in Heathrow's history
BA positions itself on being a trusted heritage brand that offers quality – especially compared to its cheaper sector rivals. It is notable therefore that its quality score has taken a hit too, and is now seven points lower than it was last week (29 to 22).
It is likely that BA will see its metrics continue to fall in the aftermath of the data breach. However, as noted in previous cases, the speed and efficiency in which a brand is seen to have addressed and dealt with the problem will have an effect on how lasting the impact is – and BA boss Cruz was quick to apologise and reassure customers within 24 hours of the news breaking.
What's more, British Airways' underlying brand strength and its long-established relationship with consumers should see it emerge from this crisis.