Wetherspoon's share price tumbles as boss Tim Martin warns Living Wage costs could lower pub chain profits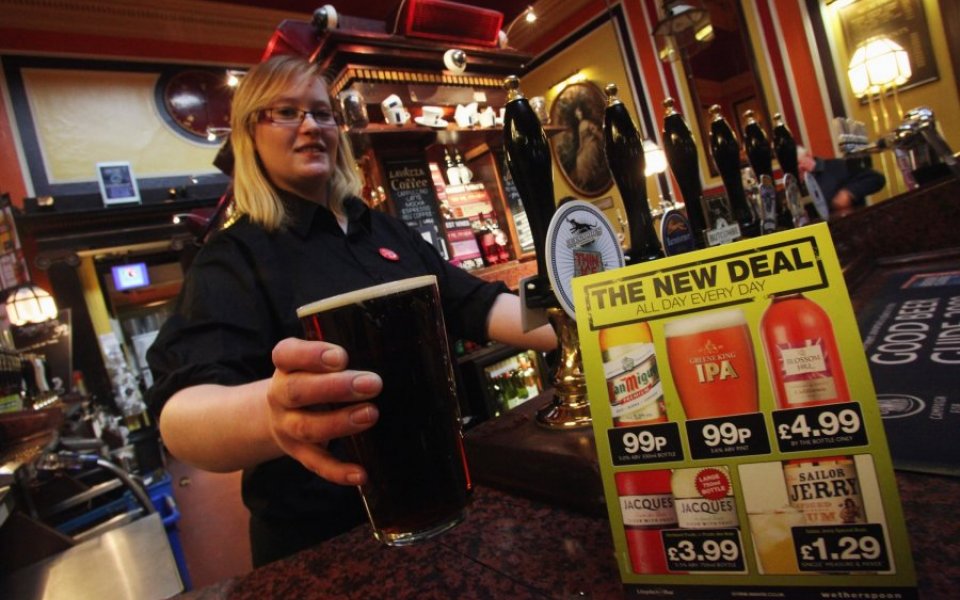 Wetherspoon's share price tumbled this morning after boss Tim Martin warned that rising labour costs could result in lower annual profits, with margins falling in its first quarter.
The figures
The pub chain grew like-for-like sales 2.4 per cent in the 13 weeks to 25 October, while total sales rose by 6.1 per cent, buoyed by the Rugby World Cup.
Margins dropped to 6.2 per cent, compared with 7.7 per cent for the same period last year. This was blamed on "increases in the starting rates for hourly-paid staff in October 2014 and August 2015, which totalled approximately 13 per cent".
Wetherspoon's share price fell on the open, dropping 4.7 per cent.
Wetherspoon's opened three new pubs during the period, and has sold one. It plans to open 15 pubs throughout the financial year, and is simultaneously considering "a small number of freehold disposals", having offered 20 leasehold pubs for sale already.
Why it's interesting
Martin has been a vocal critic of the Living Wage, using several opportunities to slam it as putting excessive pressure on the pub industry. This comes on top of his complaint that VAT is endangering the future of the sector, calling for a level playing field between pubs and supermarkets.
Wetherspoons appears to be performing relatively well despite these issues, but Martin clearly still sees both of these issues as a threat to his company.
What they said
Martin explained: "As we indicated in September, it is difficult to quantify exactly the factors which will influence our trading performance in the early stages of a financial year.
"Increased labour costs are clearly an important factor for all pub and restaurant companies and may result in our annual profits being slightly lower than the last financial year. We will provide updates in our regular statements."
In short
George Osborne is showing no signs of backing down on the Living Wage – in fact the level is rising again, this time to £8.25 an hour, or £9.40 in London. Wetherspoons has lost this battle, now the budget pub group must establish how it can flourish in the new world order.