Nato to hold crisis meeting after Russian SU-24 jet shot down by Turkish F-16 warplanes over Syria: Moment captured on video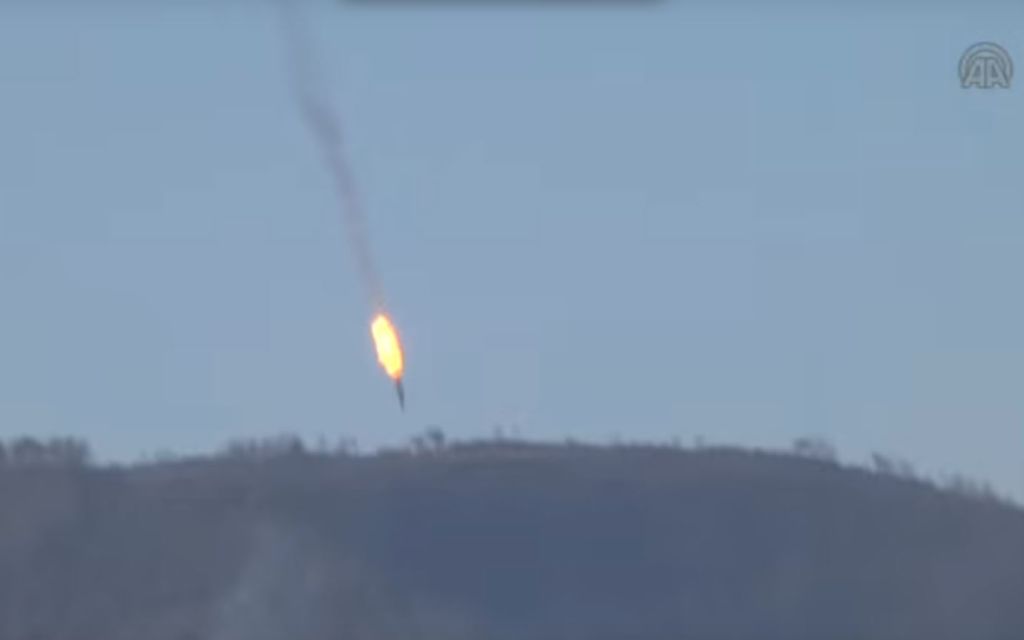 Update: Russian President Vladimir Putin has slammed Turkey for shooting down a Russian jet this morning, saying it was "a stab in the back".
A Russian SU-24 jet was shot down by Turkish warplanes near border with Syria this morning.
Russia's military has contradicted previous Turkish claims that both of the jet's pilots are alive, confirming to the RSA news agency that one of the men is dead.
Turkey "acted as accomplices of the terrorists" in downing the plane, said Russian President Putin according to state media Russia Today.
He insisted the aircraft was targeting terrorists in Latakia, Syria, "many of whom came from Russia" and repeated the defence ministry's claim that the plane never strayed into Turkish territory, remaining one kilometre from the border.
However, a Turkish military official told Reuters that the Nato member country's F-16s had fired on the then-unidentified aircraft only after warning it was violating Turkey's airspace.
"It was downed in line with Turkey's rules of engagement after violating Ankara's airspace," the wire reports. President Tayyip Erdogan has been briefed.
A statement issued by Turkish military added that the plane had been warned "10 times in five minutes"
Nato held an emergency meeting this afternoon, meeting in Brussels at 4pm.
Putin said the fact Turkey urged this meeting was "worrisome".
The pilots of the SU-24 plane ejected themselves before the plane crashed, and one is thought to have died before he landed. A video purporting to show his body is being circulated online, and supposedly originated with Syrian rebels.
State media has footage of the moments after the plane was struck, in which it crashes into mountains near the border with Hatay province.
Before Putin gave his statement, the vice-speaker of the Duma suggested that Russians who are in Turkey be evacuated.
Вице-спикер Госдумы предлагает эвакуировать находящихся в Турции россиян pic.twitter.com/Z7kKs32PYC

— Alexander Vinokurov (@Vinokurov12) November 24, 2015
The Russian foreign minister Sergey Lavrov has cancelled his trip to Ankara following the incident.
Russia has been taking part in airstrikes in support of Syrian President Bashar al-Assad against rebels in late September, as well as Islamic State.
Following the attack on a passenger jet from Sharm el-Sheikh to St Petersburg, President Putin vowed "not simply to continue, but intensify" its air campaign.