Lord Mayor's Show 2014 route: Where to watch the procession in the City of London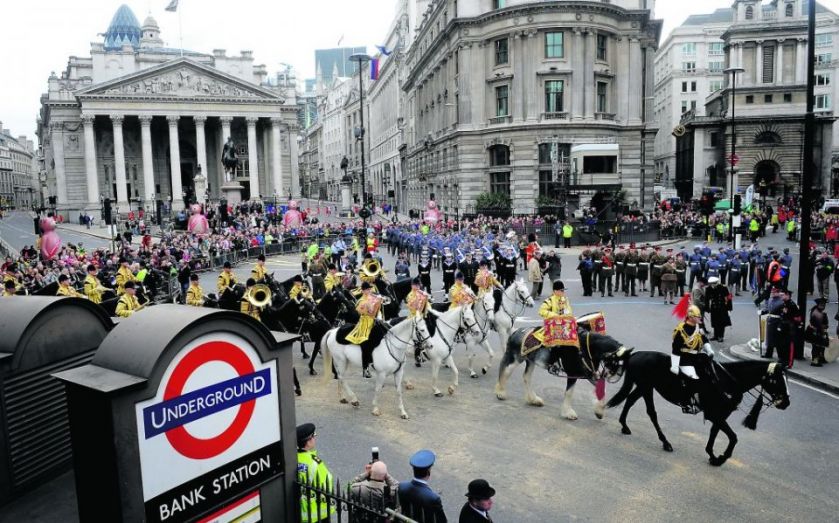 With gleaming skyscrapers home to the world's leading corporations, it can be easy to forget that the City of London is rooted in centuries of tradition. That tradition will be on full display again this weekend during the 799th Lord Mayor's Show. The event, which has endured Black Death, Blitz and Great Fire, is one of the oldest and most popular civic pageants in the world.
After leaving Mansion House at 11am on Saturday, the procession snakes through the City toward the Royal Courts of Justice (where the new mayor will get down from his carriage to swear an oath of allegiance) and returns via Victoria Embankment.
The spectacle ends at 5.15pm with a fireworks display over the Thames. Over 200 horses will join 7,000 people in the three and a half mile procession that will fill the entirety of the space between Bank and Aldwych from 11am to 2.30pm. Half a million spectators are expected to attend, while millions more will tune in on television.
So, what's it all for? The event marks the hand over of the title of Lord Mayor, a centuries-old position whose incumbent heads the City of London Corporation, the organisation charged with overseeing the running of the Square Mile.
The City of London is the only local authority in Britain where the mayor is elected by businesses, rather than constituents, and the current Lord Mayor, Fiona Woolf, is only the second woman to have held the position. Next up it's Alan Yarrow, who will be officially sworn in at the Guildhall Silent Ceremony today.
CITY A.M. GUIDE: HOW TO MAKE THE MOST OF SATURDAY'S FESTIVITIES
8.30am
The fun begins at 8.30am when the River Pageant – a splendid flotilla including the Queen's barge Gloriana – leaves Westminster Bridge.
9.25am
Tower Bridge opens in salute at 9.25am and the new Lord Mayor alights at HMS President ten minutes later.
11.00am – 2.00pm
The Lord Mayor's Procession sets off from Mansion House at 11.00am, before returning there just after 2.00pm.
2.00pm – 5.00pm
In the lull after the procession, various guided walks of the City of London's many historical passageways and back alleys will take place. The walks are free but donations are appreciated.
5.15pm
Then, at 5.15, a fireworks display lights up the Thames.