We bounced along at high speed, our eyes glued on the dramatic chase unfolding on the Serengeti plains. An agile, golden-coated beast bounded forward in pursuit, its rowdy team striving to catch up. The target now cowered in a small thicket of acacia tree, a fairly lame strategy but it looked to be all it had. This wasn't going to be pretty.
Heading on a Tanzanian safari, it was a near-certainty I'd bear witness to a little "circle of life" carnivore carnage. I was expecting the most intense encounters with lions, hyenas, and maybe some cheetahs and leopards too. But the most exciting savannah chase where a domestic dog is the star pursuer? That's a new one. The canine, a rescued Belgian Malinois named DJ, took less than a minute to reach his "prey" – that would be the two stand-in animal poachers cowering with contraband. Gunshots permeate the air for heightened drama.
We're joining a training session with ex-British Army man Wesley Gold and his Canine Anti-Poaching Unit on the Grumeti Reserve, where a squad of four dogs and nearly 20 handlers and team members are put through their paces. Wesley shares impressive statistics of the unit's total haul of illicit animal goods, stressing that it's not just rhino horn and elephant tusk being trafficked through these plains from the Serengeti National Park, but the more-prolific, less-headline-grabbing bushmeat trade which slaughters monkeys, impalas and zebras for human consumption and with it, decimates the herbivore foundation of the famous ecosystem.
A chocolate lab mutt named Tony is now on the hunt. He may look more at home in the leafy suburbs of London, but out among the tall grasses and thickets of Grumeti he's earning his keep, sniffing out a lion's tooth within a thicket less than two minutes after he jumped from his cage.
The unit and its militant approach to conservation is in stark contrast to the history of the Grumeti concession. Less than 20 years ago it was attempting to lure game hunters, and was faced with a total collapse in the numbers of big cats and herbivores and the healthy ecosystem that these crowd pleasing animals symbolise.
In 2002 the Grumeti Fund, a not-for-profit organisation, was granted the right to manage the 350,000 acres of grasslands adjacent to the Serengeti National Park. The owners brought in South African luxury safari company Singita to operate an exclusive quartet of boutique lodges and camps. Now wealthy tourists can pay to join anti-poaching canines and have sundowners at anti-poaching observation posts instead of poaching and posing with the big beasts that have in time returned to the Grumeti.
Read more: 70 years after the publication of Nineteen Eighty-Four, we visit Orwell's remote Scottish island home
But even before learning of the conservation effort or meeting tracker dogs DJ, Popo, Radar and Tony, the evidence of the dramatic turnaround greeted us minutes after touching down on Singita's red dirt airstrip. Our guide for the week, Anicet, interrupted pleasantries and handed me binoculars to see a herd of buffalo grazing by the airport. Moments into our transfer to Singita Sabora Tented Camps we were face-to-face with a family of elephants numbering two dozen making short work of some roadside shrubbery. Two of Africa's Big Five in the first ten minutes – these guys are good.
While conservation and sustainability is woven through the work of Singita within Grumeti reserve, it was abundance that greeted us when we arrived at both Singita Sabora Tented Camp and its sister property Singita Faru Faru Lodge. As a safari novice, when I saw tented camp on my itinerary, thoughts of music festival yurts popped into my head. Singita's version now becomes my bare minimum of camping, although I doubt I'll be gazing out at zebras and Thompson's gazelles grazing from my outdoor shower at my next canvas-covered accommodation.
The lioness we're stalking lunges at a wildebeest who'd wandered too close. Dust rises as the migrating cohort marches past, the predator's taut muscles and suffocating bite overwhelming this unlucky grazer
There was a perfect dichotomy of emptiness and abundance. With no fences, no blots of concrete on the far horizons, neighbours numbering a few buffalo and a family of warthogs, we were blissfully cut off and living on the edge of the world. Yet, in our cocoon we wanted for nothing: Manambo, our butler, oversaw a craft gin collection to rival any top shelf in Shoreditch, Serengeti lagers were downed poolside staring out at the beer's namesake and, somehow, lobster tail and expertly-seared yellowfin tuna steaks made an appearance at dinner.
Singita's collection of tented camps and lodges are undoubtedly five-star, but levels of luxury on here are not measured on the usual regal richter scale of thread counts, butler service and infinity pools – although Singita Faru Faru Lodge easily ticks those boxes as well. Singita spoils us with exclusive access and its unrivalled location: If the world-famous Serengeti National Park is the National Geographic version of a nightclub dancefloor, Grumeti Reserve is the cordoned-off VIP area of 350,000 acres. Life is very good behind the velvet rope. And good enough too for the BBC crew filming the latest Serengeti series who we parked beside to watch a cheetah laze in the shade of an acacia tree.
Read more: How the fall of Mugabe allowed Zimbabwe to reclaim the future of its tourism
Anicet, who sticks with us from Sabora to Faru Faru on the other edge of the reserve has conjured up a herd of thousands of migrating wildebeest a week before they were due and ensures we know how lucky we are – not just to see part of one of the world's greatest migrations but to have the view all to ourselves. "The Mara river crossing is iconic so there are many tourists, but it's having consequences for the animals. Most manage to avoid the crocodiles, but when they make it to the other side and up the bank, they're confronted with 40 to 50 safari jeeps and cameras and they get scared and often fall back into the Mara. It's terrible."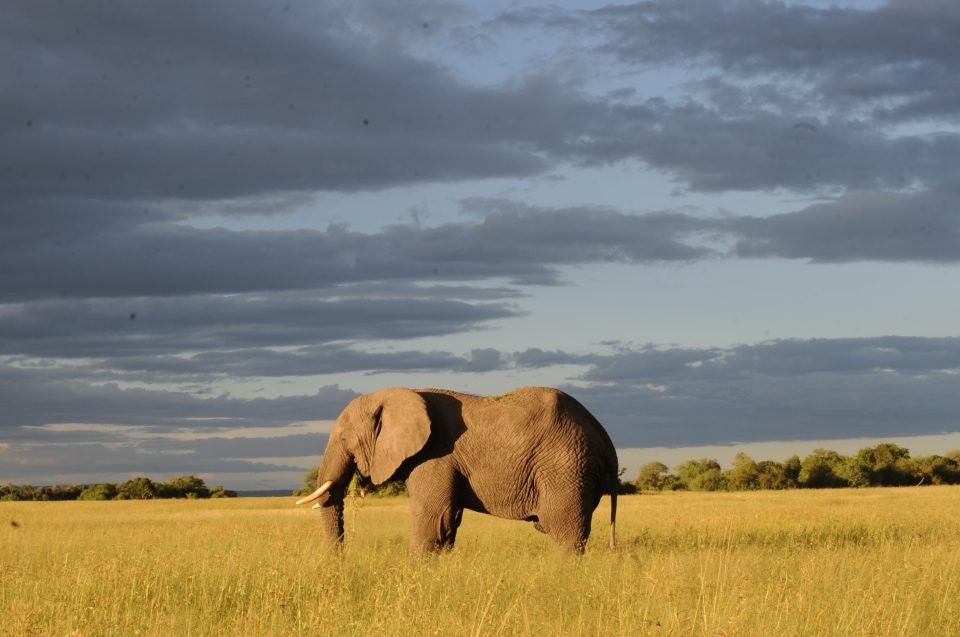 Scanning across our amber plain at more than 2,000 wildebeest, two herds of zebra, scores of impala, a few loner kudu, one lioness taking her sweet time to pick a target as they all trudged past her and there is just one other Singita Land Rover. I struggled to envisage Anicet's concerns of human obstruction at the Mara river crossing while we were this outnumbered. As if by prompt, and just as Anicet says "c'mon baby, when will you strike," the lioness we're stalking lunges at a wildebeest who'd wandered too close. Dust rises as the migrating cohort marches past, the predator's taut muscles and suffocating bite overwhelming this unlucky grazer.
Circle of life, I tell myself. Anicet reminds us this is only one of a handful of time he has witnessed a lion kill. To us it now seems all part of the Grumeti service: personal drivers, ponchos, pools and elephants on arrival. Scandi-meets-Serengeti decor, Sipsmith G&Ts and tree-scaling leopard cubs. And – best of all – the lesser-spotted Canine Anti-Poaching Unit.
---
Expert Africa (expertafrica.com) offers a 6-day safari in the Serengeti staying at Singita Sabora Tented Camp and Singita Faru Faru Lodge from £7,715pp, based on two sharing. Includes 5 nights full board accommodation on safari, including all drinks, conservation fees, wildlife activities in the private Grumeti Reserve, local light aircraft flights and all local transfers, one night at an airport hotel at Kilimanjaro International Airport and return economy flights from London.