Flybe share price dives as turnaround hits turbulence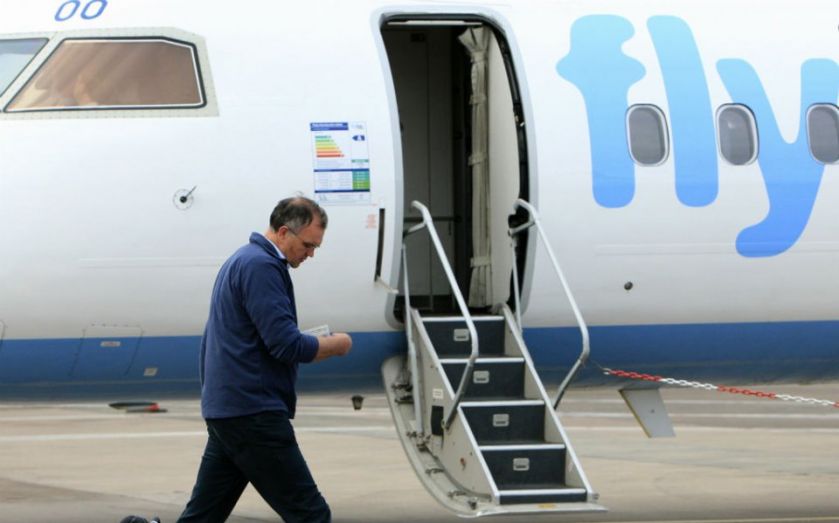 THE FIGURES
Flybe shares have fallen as far as 22 per cent lower at pixel time to 69.48 pence per share after opening 15 per cent down in early trading this morning, following disappointing a full-year forecast.
In the third quarter to the end of December, Flybe's passenger revenue per seat was up 2.4 per cent, and load factors increased to 74.3 per cent.
However, overall passenger revenue fell by 3.8 per cent to £126.8m as seat capacity was reduced from 2.7m seats to 2.5m seats, in line with its strategy. Costs were down across the group by 4.7 per cent to £133.7m.
WHY IT'S INTERESTING
The budget airline is mid-flight in its turnaround and is successfully reducing its cost base. In July 2014, it reported its first profit in four years and increased passenger numbers while adding 20 new regional routes for summer 2015.
But a previously announced write down of its Finnish operation and flight delay provisions means it only expects to break even at pre-tax profits level in 2015.
The airline also won't get a much-needed boost from falling oil and fuel prices until 2016/17 due to its hedging strategy.
WHAT FLYBE SAID
Chief executive Saad Hammad said: "Flybe's improvement in its core UK business continues to progress. Only a year into our three-year transformation we now have a platform which enables us to compete in a tough environment where the consumer demands value. We have responded to that by keeping our fares low and launching new routes.
"Having removed nearly a $1bn of future liabilities over the course of this year in relation to the firm legacy order for additional Embraer E175 aircraft and ongoing losses of Flybe Finland, we are making solid progress towards finding a solution to our remaining legacy issue, Project Blackbird.
"We are now well positioned to continue our positive momentum towards delivering sustained profitability and value to shareholders."
IN SHORT
Flybe looked like it was at cruising altitude, but there could be further turbulence for the regional airline about halfway into its three-year turnaround.