Labour's turnaround in the polls has become even more marked, as Jeremy Corbyn's party has taken an eight-point lead over the Conservatives in the latest one.
A new YouGov poll for The Times now has Theresa May's Conservatives on 38 per cent and Labour on 46 per cent, with the Liberal Democrats on six per cent, and Ukip on four per cent of the vote.
Read more: These are the new names in Corbyn's shadow cabinet
Labour's improved position comes nearly a month on from the General Election May had called to strengthen her hand for Brexit negotiations, but instead left Britain with a hung parliament and the Conservatives striking a supply and confidence agreement with Northern Ireland's Democratic Unionist Party.
Prior to the election, the Conservatives had been comfortably ahead in the polls, but a bumpy election campaign followed including U-turns on manifesto pledges, leading to Labour's resurgence.
The YouGov poll was based on a poll of 1,648 people asked about their voting intentions over the course of the 5 and 6 July. In its summation of the results, the pollster said voting intention figures of the new parliament "show that things have only gotten worse for the Tories".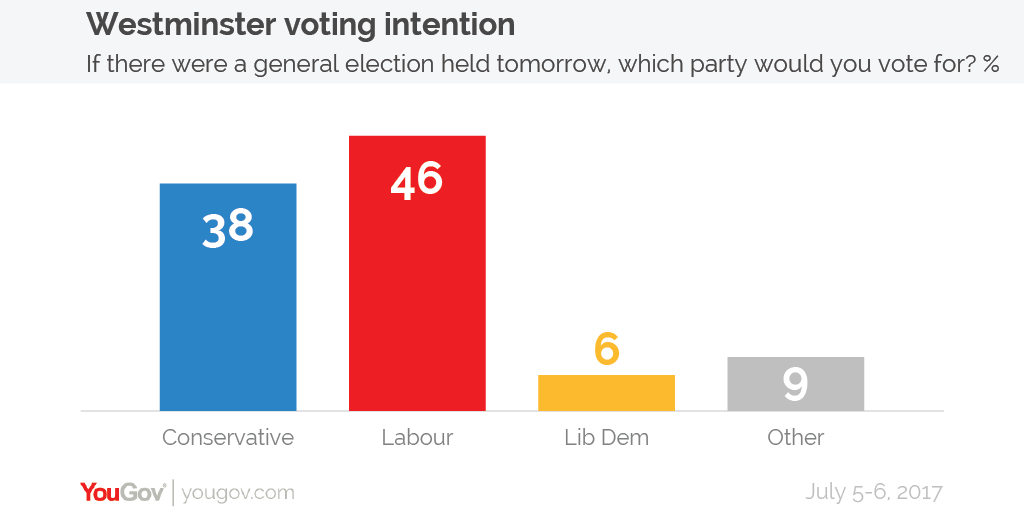 Earlier this week, ConservativeHome provided its latest cabinet league table, which had the Prime Minister dropping from the most popular minister to the second least popular (pipped by party chairman Patrick McLoughlin).
Brexit minister David Davis was the most popular, followed by Michael Gove.
Read more: Wealthy Britons think Theresa May's government will make them richer